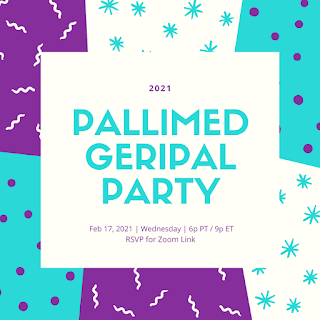 Short notice, but yes, there will be a Pallimed/GeriPal virtual party this year. Have we planned a lot around this? No. Do we want to see friends and colleagues and meet new people? Yes. Can we do it with minimal expectations? We hope so!
We are not sure what to expect, but when we did this in person there was never that much of a plan anyway, except where to go next, and even that was up for improvisation.
So what might we do. Probably hang out in different Zoom rooms talking about different subjects, playing games, talking about palliative care things, or maybe not palliative care things.
When: Wednesday, Feb 17, 2012 6-8pm PST/9-11pm EST
Where: Zoom invite via email sent by email at 5p CT
RSVP here so we know how many to expect. 
Reserve time on your calendar now! Share this with your friends. Get them registered too. 
Keep an eye out on the Twitter accounts of Pallimed and GeriPal just in case this thing goes big and we need to make alternative plans.
-Alex, Eric, and friends at Pallimed