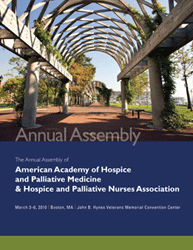 Do you want to learn more about how your colleagues are teaching learners about hospice and palliative medicine?
Then, don't miss this great new session at the 2010 Annual Assembly of Hospice and Palliative Medicine (AAHPM):
Interactive Educational Exchange: Sharing Innovative Teaching Materials and Methods

March 5th 3:15-4:15pm
For this interdisciplinary session, five educators were chosen through a highly- competitive review process to share their innovative curricula. The session will include a hands-on, interactive exploration of each of the educational materials at individual tables. Our hope is that participants will get ideas and materials to enhance their own educational programs at home.
The five innovations that will be presented are:
1) Amy Holthouser, MD – Palliative Care Clinical Teaching Vignette
2) Susan Kristiniak, MSN, RN – Pain Improvement with Nursing Knowledge
3) Gordon Wood, MD – Pain Theater
4) Susan Gerbino, PhD, MSW – Zelda Foster Studies in Palliative and End-of-Life Care – Zelda Foster Fellows Program
5) Zaki-Udin Hassan, MBBS – Use of the Human Patient Simulator for Training in Palliative Medicine
Please join us!