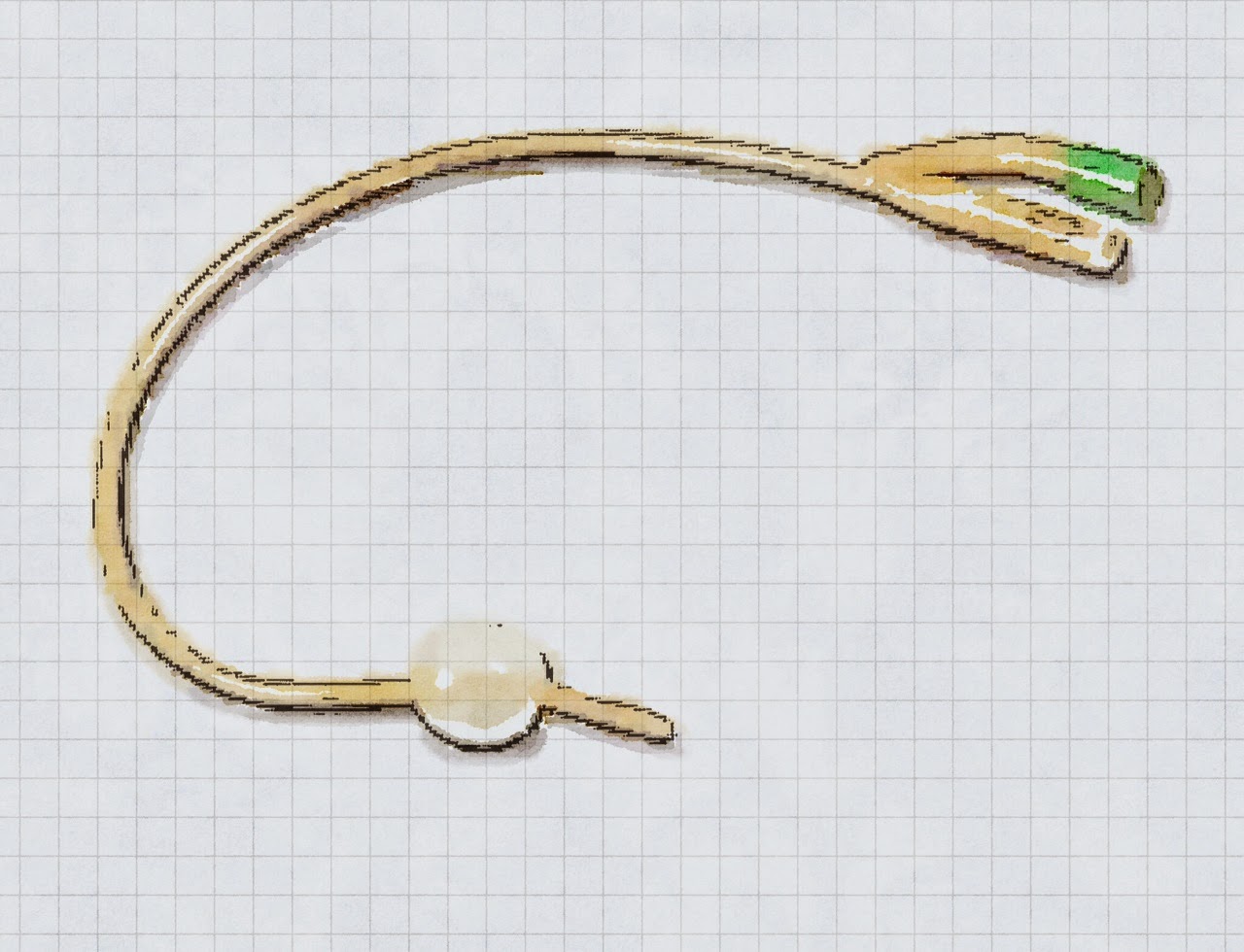 When I was a resident, it was routine to place urine catheters (a catheter threaded up the urethra, into the bladder) in older patients when they landed in the hospital.  For some diagnoses, we were even taught that the urine catheter was standard of care.  For example, virtually any patient admitted with a diagnosis of congestive heart failure (CHF) had a urine catheter placed.
While we knew these urine catheters were uncomfortable for patients, we truly thought we were doing the right thing.  Generally, a patient hospitalized with CHF has retained too much fluid.  So, we treated the patient with drugs (diuretics) to get rid of the fluid (by making the kidneys produce more urine).  It is important to get rid of enough fluid, but it can also be hazardous to get rid of too much fluid.  We were taught that it was very important to closely measure how much fluid we were removing, and the only way to do this accurately was with a urine catheter.  This is because the urine catheter makes it possible to directly measure how much urine the kidneys are getting rid of.
It was actually quite true that placement of the urine catheter gave us fairly accurate data on how much fluid we were getting off the patient.  This information sometimes had added value beyond just following the patient's weight.
But there was a BIG problem with this approach.  We only thought of the benefits of putting in the catheter.  We did not consider that placement of a urine catheter is a medical procedure that has risks.
We needed to ask, "does the benefit of getting more information about urine output outweigh the risks of placing the catheter?"  We now know that in the vast majority of cases, the answer to this question is a resounding NO.  But unfortunately, while we are now more aware of the risks of urine catheters, they are still used far too frequently, and we often fail to balance the benefits of the catheter against the very substantial harms.
One of the key harms of the urine catheter is illustrated by a very instructive case vignette published in JAMA Internal Medicine as part of the wonderful Teachable Moments series.  An 80 year old man with was admitted with fluid overload due to kidney disease.  A urine catheter was placed to monitor his fluid status, and after several days he was discharged home in better condition.
Or so it seemed.  Unfortunately, 5 days later he became seriously ill with an infection that started in his bladder (urinary tract infection) that then spread to his blood (sepsis).  He required care in the intensive care unit.  The value on his prior admission of precisely assessing how much urine he was producing was clearly not worth the risk of this disastrous and life threatening complication.
The risk of urine infection is the most discussed complication of urine catheters.  But Geriatricians worry about a much common, and perhaps as serious complication.  The placement of a urine catheter in the hospital almost always leads to immobilization.  Once that catheter is placed, patients just seem to stay in bed all the time.  Dr. Sanjay Saint, an expert on the harms of catheters has referred to urine catheters as "One-Point Restraints" to draw attention to this serious harm.
The immobilization caused by urine catheters causes older patients to become weak and frail.  The urine catheter is believed to be one of the factors that leads to the syndrome of Hospital Associated Disability.  Hospital Associated Disability refers to the common problem of older patients losing their ability to function independently after hospitalization for what are often seemingly minor illnesses.
The bottom line:  Urine catheters are vastly overused in the hospital.  We need to stop thinking of urinary catheter placement as routine.  Rather, it is a risky and morbid procedure that should only be done after a careful assessment of risks and benefits.  In most cases, this assessment will lead to the conclusion the risks far outweigh the benefits.
by: Ken Covinsky (@geri_doc)