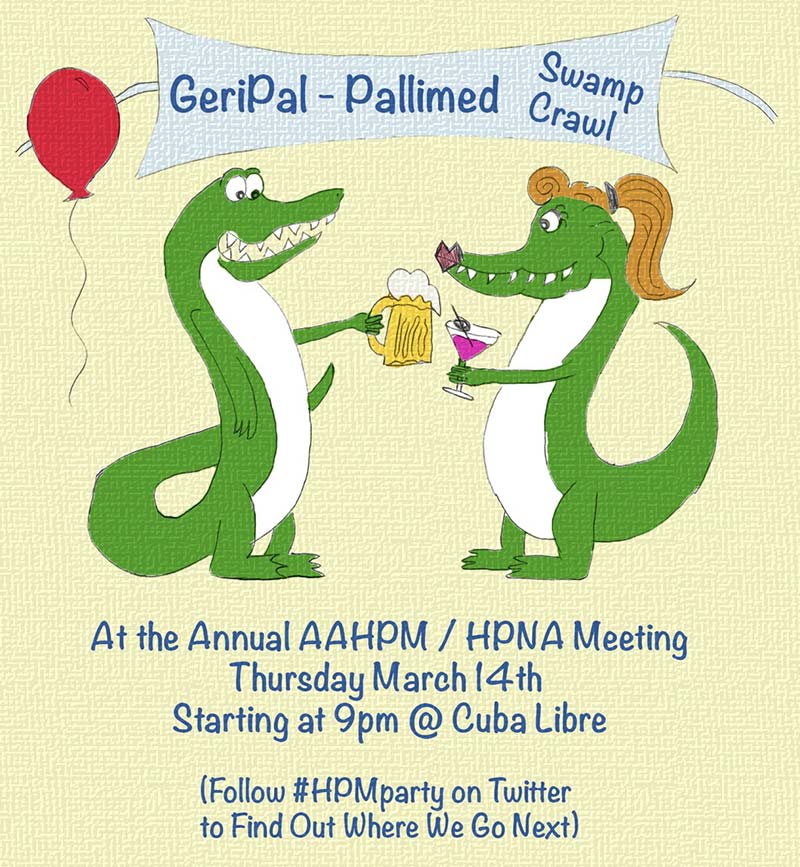 The Annual Assembly of Hospice and Palliative Care is only a week away, and it is time to announce the details for the 13th Annual Pallimed-GeriPal Party!
Just so you all know from here to eternity, the answer to the question of "When is the Pallimed-GeriPal party?" is Thursday night at 9pm local time the week of the Annual Assembly of Hospice and Palliative Care (but just to be clear it is not an official part of the meeting). We love meeting other hospice and palliative care clinicians and advocates, so feel free to invite and bring any colleagues or new friends with you as this is not an exclusive crowd.
This year we will have the traditional pub crawl and returning for the second year the #hpmParty ESCAPE ROOMS!
For the pub crawl we will be starting at Cuba Libre at 9pm in the Saratoga room Thursday, March 14th. Around 10pm, we will likely be moving on to the next destination. Like always though, these are rough estimates of time, so if you want to know the details, follow the hashtag #HPMparty on Twitter.
We are partnering with The Escape Game in Orlando, about 1.5 miles north of the conference. We have three rooms booked this year with room for 8 people in each room, and as a new twist this year, each room will have a secret palliative care celebrity guest, so that means there are only 21 slots available! The starting times for the rooms are 830pm, 840pm and 850pm and each room takes no more than one hour, so you will have time to join the pub crawl in progress (or not at all, if that is not your thing!). If you want to do the escape rooms, book your tickets ASAP. No need to buy anything or sign up for anything if you are just doing the pub crawl. You will want to get to the Escape room 15 minutes ahead of your scheduled time and it takes 10 minutes by car and 30 minutes by foot. Be on time!
Ways to follow the party from near or far: #HPMparty twitter feed
And if you are not already doing it:
Illustration by Christian Sinclair