Being a New Yorker, I am a bit obsessed with the windows of the dowager department stores that march down Fifth Avenue.  When I first moved here, I most identified with the Lord & Taylor windows — maybe because I grew up going to Lord & Taylor on those occasions when we needed to buy a special outfit.  More recently, I've been entranced by the Bergdorf Goodman windows (#BGwindows) and have photographed and blogged frequently on same on my personal blog (#BGWindows Follies, Wow!, and Head Shots).
This month, Bergdorf's landlord (a descendant of one of the original founders) released a documentary – Scatter My Ashes at Bergdorf's.   In the great tradition of most big-budget fantasy movies these days, the social media folks created a game to go along with the move release.  It was highly addicting (four of my windows grace this post) while it was up and a great way for me to unwind as we prepped for #AGS13 and recovered from all the hustle and bustle of our time in Grapevine.  Tellingly, my first effort (Marching up 5th) is just a pretty window while the window I designed on the plane home (Reimagining Oz) asks "What if Dorothy was framed"?  The prize for the winner of this social media contest is a $1,000 gift certificate – just about enough to cover a stylish pair of sensible shoes!

Channeling Gatsby
By now, you are scratching your head and wondering why I'm posting this post to GeriPal rather than my own blog.  What on earth does fashion have to do with us, you are asking.  A lot.
May, as GeriPal readers will know, is older American's month and I've been thinking about how we need a month to celebrate older Americans yet our youth-obsessed culture celebrates young people every day.  The #BGwindows are no different.  They are populated by rail-thin mannequins that are purportedly ageless but the clothing choices are clearly those of young women.  The subliminal messaging if one puts the windows and the movie together?  We celebrate youth but the Bergdorf's shopper is so devoted to us that she wants her ashes scattered here.  Prompting me to ask David Hoey (the mad genius behind the #BGwindows):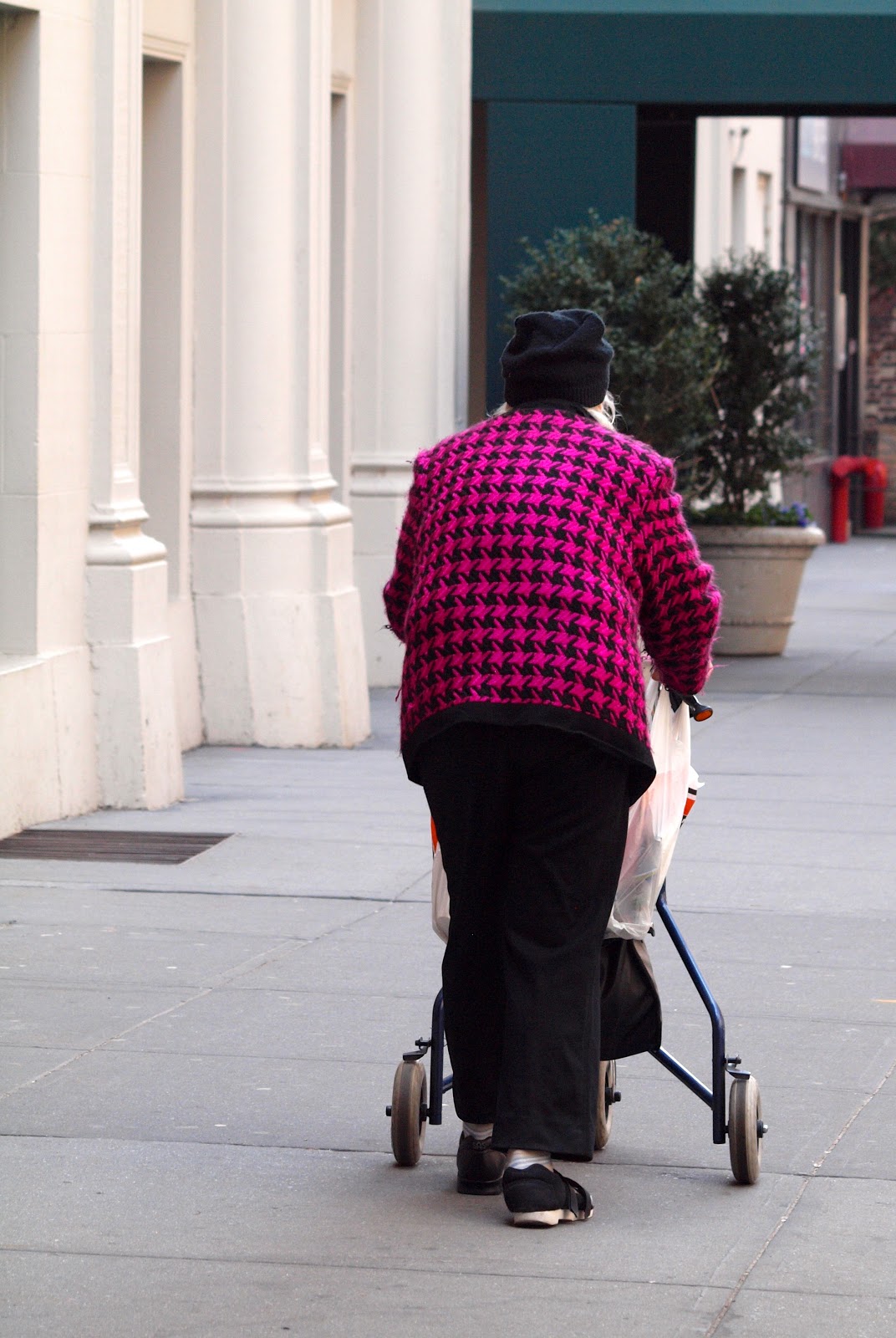 Out and About, NYC
Isn't there a way station in between youth and the ashes that come out of a crematory that we could be celebrating?  Could you ever see yourself designing windows that celebrate older women?
I know that David has it in him.  I know he could design some awesome windows that celebrate older women in the the way that Sacha Goldberger celebrates his Mamika (my little grandmother).  Sacha's collaboration with his 93-year old  grandmother showcases Mamika as a superhero.  His work has been chronicled in the New Old Age blog at the NY Times, in the Huffington Post, and on Twisted Sifter.   And, if Louis Vuitton can make a life-like replica of Yayoi Kusama surely Bergdorf's could do the same with Sacha's grandmother!  Mamika  clearly has the chops to carry ALL of the 5th avenue windows.  93-year old superhero meets fashion on 5th Avenue — what could be better than that?
Perhaps David Hoey would want to look a little closer to home for a collaborator.  For that he could turn to photographer Ari Seth Cohen and his blog Advanced Style.  There is a certain fashion panache that comes with getting older. It's less about what is in fashion now and more about what a woman's style is and Ari captures that perfectly.  For this collaboration, I could see David inviting some of Ari's subjects into Bergdorf's and working with them to put together the outfits that would grace the models in his windows.  Of course, those models should come in all sizes and shapes.  it would even be good if some of them were wearing — gasp — sensible shoes and using canes or walkers.

Game of Fashion in Five Parts
Tim Gunn recently said to the designers on Project Runway,   "in the real world, good fashion is both timeless and ageless."   It would be great if David Hoey could exemplify that in the #BGWindows that line 5th Avenue.  Timing the display for May 2014 (and then annually thereafter) — in celebration of Older Americans month would be even better.
We need to chip away at society's obsession with youth every time we get a chance.  I always figure that it is better to ask for something and not get it than to wonder "what if".  Case in point?  Last year I challenged FIRST Robotics to tackle aging in their competitions (Pillbox Fill:  An Idea for the First Robotics Competition) and this  year they did (Make It So) — proof positive that dreams do come true.  Maybe this one will too!

by: Nancy Lundebjerg