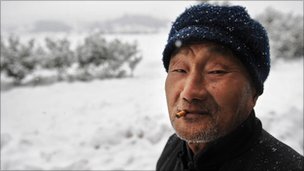 According to a United Nations study, developing countries such as China are seeing a rapid graying of their population that is out-pacing the rates seen in developed countries.
The Chinese Ministry of Civil Affairs reported that close to 13% of China's population is 60 and older. A recent BBC news articlereports on the growing number of older persons in China and the corresponding strain felt by adult children who have to choose between fulfilling their filial or professional/personal duties.
In China, the one-child policy implemented in 1979 means there are fewer adult children available to care for aging parents at home.
Developers in China see this as an opportunity to turn senior care, once a practice of filial piety, into a lucrative industry. Retirement communities in major cities are proposed as viable solutions to the problem of elders growing older without children to care for them. While developers stand to gain financially, both the adult child/children and the aging parent(s) stand to lose.
Within a cultural context, a child who feels the need to pursue her career may feel guilty for sending her parent to live in a retirement village. For the aging parent, being far from her home community can generate feelings of isolation and abandonment by her child.
As gray becomes the new red in China, who will care for the aging parents?
By: Julie N. Thai (GeriPal International Correspondent)