Are you still not convinced that you should sign-up for twitter?  Will take more than a "genius" for you to understand the value of a 140 character haiku?  Well, maybe Christian Sinclair can convince you as part of our second installment in our series to encourage uptake of twitter in both geriatrics and hospice & palliative medicine (especially at this years Reynolds meeting via the hashtag #dwrf12).
Dr. Sinclair (@CTSinclair) is the National Hospice Medical Director at Gentiva Health Services and is one of AAHPM's Board of Directors.  He is the co-editor for the blog Pallimed and has convinced many people in our field to take the plunge into social media.
Widera: Why should we get on twitter?
Sinclair: Communicating good information about health care to the general public is challenging and tools which are free and quick to learn should encourage us to at least become familiar with the potential benefits. And because communication is a two-way street, we could always learn what is important to the patient communities we serve since they are openly broadcasting about their illness in online groups.
Widera: Can you give a real life example of an interesting way twitter can be used in geriatrics or palliative care?
Sinclair: Advocacy is probably the safest and quickest way for anyone to start to see the power of Twitter. When you read an interesting journal article go ahead and share the link and maybe a short comment about your thoughts on Twitter. When you use the hashtag #hpm or #geriatrics then all other people interested in that subject have the potential to see it, learn from it and pass it on. Physicians Scott Lake (@doclake) Diane Meier (@DianeEMeier) are probably the most consistent and high quality users I see using this approach.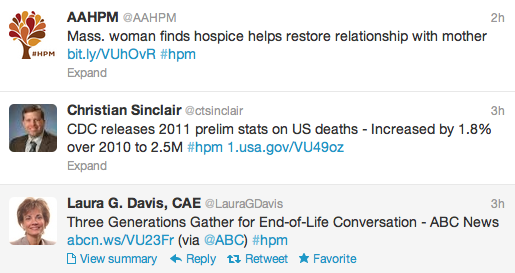 Widera: Do you use twitter during national meetings? If so, how and why?
Sinclair: I use Twitter at National Meetings in many ways. First it is a simple way for me to take notes. I bring my laptop or iPad with keyboard and tweet interesting facts and links related to the presentation and the hashtag for the conference. When I get back from the conference I simply look through my last hundred tweets and find all the things I found very interesting and share that with my teams.
Widera: How do you find the time to read and respond to all those tweets?
Sinclair: I don't. I think of it like a news ticker at the bottom of your TV screen. If you miss some information on there while you fix your lunch, you don't find yourself worried about being left out. And if it important enough to be read, the echo chamber of online communications will make sure it finds a way to your eyes.
Widera: Do you use twitter to talk about something other than geriatrics or palliative medicine?
Sinclair: I do have friends that I talk about books we are reading, and occasionally soccer as well. I do follow other health care groups on twitter such as #BCSM (Breast Cancer Social Media) and #HCSM (Health Care Social Media).
Widera: Any tips for someone new to twitter?
Sinclair: Listen first. Follow key professionals who are using Twitter effectively for professional to professional communication. See how they are sharing information about your field and how it interests you. Then re-tweet and start to compose some of your own original tweets.
Widera: Funniest thing you saw on twitter lately?
Sinclair: Since I'm traveling more in my current job, I love to ask the Twittersphere about good or bad things at different airports. I'm love the humor and quips people share about O'Hare, Atlanta, and Dallas!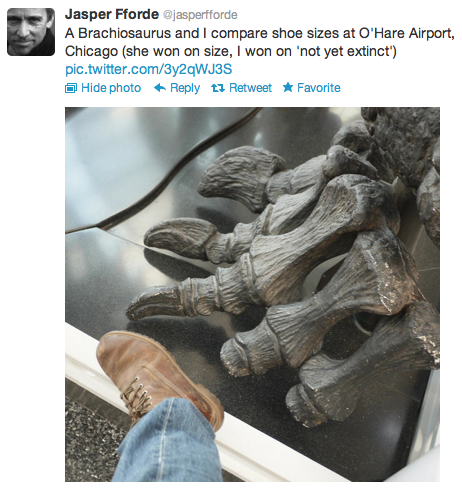 by: Eric Widera (@ewidera)