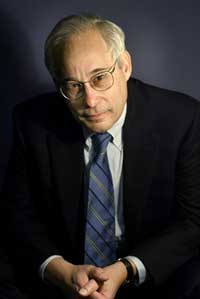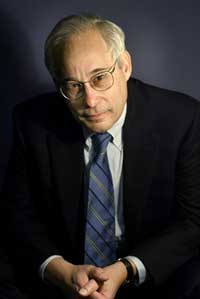 OK, Congress has passed insurance reform. But President Obama's proposed nomination of Don Berwick (pictured) to head CMS says a lot about the administration's overarching plan for delivery system reform. Wake up, tea-baggers. This is not a "government takeover" of health care. Just the opposite. It's about paying health care innovators to re-engineer this inefficient, dysfunctional mess from the inside out. The old non-system needs to die, and a new one – a real, integrated, functional health care system – must take its place. Government isn't about to force this on anyone. The executioners, the midwives, the innovators will be – us.
Berwick, Professor of Health Policy and Management at the Harvard School of Public Health and founder of the Institute for Healthcare Improvement (IHI), is perhaps the world's leading proponent of, and authority on the mechanics of, improving health care at the operational level. The breadth of his philosophy can be summed up by two of his famously terse pronouncements: "When I climb Mount Rainier, I face less risk of death than I face on the [US] operating table," and "What can you do by next Tuesday?" He has criticized clinical trials (read: Medicare demonstrations) as too slow, too cumbersome, and too exclusionary to be effective quality improvement tools. He favors pilots, utilizing rapid-cycle improvement techniques, to get real results in as close as we can get to real time.
Atul Gawande, in a December 2009 New Yorker article, describes how this pilot methodology produced an explosion of knowledge and progress in the hidebound American agricultural system of the early 20th century. He also points out that the health care reform bill (pre-Christmas last year, this was the Senate version) didn't redesign the system or mandate cost cuts. Instead, it provided pilots. At the time, that was disappointing. Now, it looks brilliant.
Fast-forward to HR 3590, The Patient Protection and Affordable Care Act of 2010, signed into law by President Obama last week, all (sigh) 906 pages (take my word for the following if you don't want to download a 2MB file). Check pp. 271-297, Part III, Sec. 3021, titled "Encouraging the Development of New Patient Care Models." This provision creates the Center for Medicare and Medicaid Innovation (CMI). Sec. 3022 describes Accountable Care Organizations (ACOs); Sec. 3024 is about Independence at Home; Sec. 3026 lays out Community-Based Care Transitions programs. The details on these & other initiatives are too numerous and complex to include here. However, these new models are just a starting point. We will make others up as we go along. The law appropriates over $10 billion for years 2011-19, leaving the Treasury door open for more after that.
What would Don do? It would be surprising if CMS and CMI didn't work hand-in-glove to evaluate the multitude of pilot projects that will mushroom all over the US in 2012 and after, implementing what works. Nice plan. Overhaul the system by doing what Americans do best: reinventing ourselves.
I had the opportunity last week to chat with Peter Orszag, Director of the US Office of Management and Budget (the poor man's way – I called in to NPR during his interview). I asked him how we'll ever achieve reductions in Medicare expenditures when Congress always restores whatever it previously cut out of provider reimbursement (e.g. the annual "doc fix" that keeps putting off mandated cuts in MD payments). His reply: we won't have to do that any more. The new law will enable us to "bend the cost curve" downward through delivery system re-engineering by providers themselves. Mandated reimbursement cuts are only a backup plan. We'll see how that works out in 10 or 15 years when the Chinese knock on our door and ask for their money back (I owe that line to Len Nichols). Meanwhile, let's roll up our sleeves and get to work.
New Bottom Line: The legislative train has left the station. Don't sit around waiting for policy makers to force payment and delivery system reform on rebellious providers and patients. Congress is done. It has handed health care off to Sec. Sebelius at Health and Human Services. Over the next few months, HHS will write the regulations and prepare the RFPs so proposals can be submitted for pilots. Who will submit them? Look in the mirror.
How to best deal with this? You have to think in system terms. The new law supports ACOs because they're the royal road to system integration, until the next great idea evolves. Now, hospitals, medical groups, and home- & community-based providers will be incentivized to group together, and to develop internal revenue-distribution and quality measurement methods. The law defines just two metrics for success: reduce costs and increase quality of care, in that order.
What about palliative care? Current models are hospital-based. Time to take it to the next level. Inpatient PC consultation teams and designated beds/units are important from both quality and cost standpoints, but they're not the whole story. They "cut the tail off" expensive hospital stays, but the real money is in preventing admissions and readmissions. Oh yeah – cutting payments for those is just around the corner. Very soon the days will be gone when hospital administrators refuse to cooperate with those of us who want to implement projects that reduce readmission rates. Who cares about contribution margins? Those needless readmissions will become pure costs. That's why the new law focuses so much on home- and community-based interventions.
Predictions: the most robust pilots will connect, through new workflow and data systems, hospitalists, hospital case management, inpatient palliative care, inpatient/outpatient integrated late-stage chronic illness management, home telemanagement, home-based palliative care, and hospice. Enlightened physicians will leverage their time and expertise as they move from just seeing one patient at a time to working with interdisciplinary teams of advance-practice and other sorts of nurses, social workers, and volunteers. Advance care planning will move way upstream, a la the Respecting Choices model. System thinking and delivery redesign will, over time, move the focus of health care for seriously ill elders, who are responsible for an ever-increasing proportion of Medicare expenditures, out of the hospital and into home and community.
What will Don do, assuming he's nominated and then that he survives his run through the Republican gauntlet of fire on the way to confirmation? He will do everything he can to promote rapid-cycle creativity and system-level integration. As a result, US health care may look and act very differently in 2020 than it does today.
But the big question is: what will you do? Those of us who have been laying low, incubating new visions, starting new programs, and gaining access and influence in health systems across the US should talk to each other. Fee-for-service health care is about to die. The new currency will be great ideas and creative practices that work.
Happy Easter, everyone. Here's to death and rebirth.