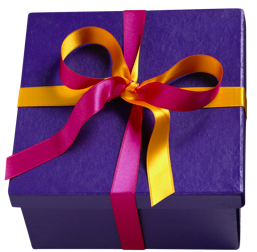 I'm literally running out the door for last minute shopping. I wanted to make time, though, to share with GeriPal good gifts for older adults that my colleagues have been sharing with me in case you're still in gift buying mode.
These suggestions are a mix of practical, helpful and more traditionally gifty. And it's meant to make you feel generous because giving makes your and your recipient's brains actually grow, sort of like this! (Thanks for the tip, Don Berwick, who summarized the wonderful benefits of being social and giving during a recent speech).
Links are embedded in each description.
Have a Very Geri Holiday!
Need a hand? There are lots of products that help maintain independence at home by making little things easier.
Jar Opener: There are jar openers that help a hungry jar owner open the lid by releasing the suction first. Ideal for people with reduced grip strength or wrist arthritis. Jar opener 1or jar opener 2. (Credit: Lousie Aronson and Dandan Liu)
Other kitchen products: Like a scooped bowl to help get all that's in there.
Reacher/Grabber: Recommended by someone whose parents used onein turn after one's foot injury and then the other's hip surgery.
Handy bar: Use this moveable bar to get in and out of a car if you have weak hip strength. (From caring.com) 
Power Shovel: Winter's here! This can help someone shovelwho does not have the arm strength. (From caring.com)  
Arrange services: Call a local teenager to get the driveway plowed, or give a gift certificate for food delivery. Think practical!   
Nice cane! Cool canes and pill boxes are made by Sabi, who makes some nice looking and design savvy ones that are worth checking out. (Credit: Sarah Garrigues)
Or considera cane with a little color and maybe some crystals (just make sure you adjust it to the right height).
A different kind of stocking.
Traction Socks are apparently made for kids and dogs, too, but could help a sock footed older adult keep her balance on the kitchen linoleum. (Please gift with a bottle of vitamin D!)
Look at my ride!
You can get gift cards to transportation services for rides to…well, where ever your friend or relative wants to go. It's none of your business!
Some of these services don't advertise gift cards, but they have them so call and check. For example: In San Francisco Silver Ride will send a gift card. (Credit: Helen Chen)
Exercise safely and hopefully more! 
When gravity is a bit of an enemy and one fall would be too many, you can still Sit and Be Fit with these chair exercises.
There are also many YouTube channels with chair exercises that could keep them going, like "On the Move" a TV reality show with older adults doing exercise with other older adults. (Credit: Dandan Liu, Scott Kaiser)
Keeping the mind as active as the body.
Brain
games can be fun, stimulating and prevent cognitive decline from
occurring or worsening. One brain store put together a list of good brain games.  (Marbles the Brain Store, c/o Rebecca Sudore)
Reading the fine print.
Turns out that the right lighting is everything. Full spectrum light can reduce eye strain, which is helpful if you are working to read regular size print.
Help out the reading process even more with a magnifying glass, which can go a long way when bifocals aren't enough anymore.
Don't just visit, do something!
If you're visiting, the consensus is- do something! Can you clean something- the fridge, the basement? Can you fix the lighting? Can you help decorate the house? Cook lots of food and leave leftovers.
Can't cook? Send treats.
The best petit fours– good for snacking and kind of old timey! (And with diabetic and gluten-free options.
Candiesfrom a former era.
Seafood soups. My grandparents loved chowders, so maybe yours will too.
What's that you say?
There are various devices to help with hearing loss that aren't hearing aids.
Pocket Talker: We are shameless proselytizers of these things, but personal sound amplifiers can let people with hearing impairment actually hear who they are talking to. This may be good for the person who refuses to wear hearing aids, or still can't hear with their hearing aids as it can go over hearing aids already in place. This isthe cheapest we've found, and in general they're sold on-line and in Radio Shack stores.
TV amplifier: This picks up the TV specifically and helps amplify its sound.
What's that big black disc thingy?
Does your grandmother still have records? She needs arecord player!(C/o Rebecca Sudore)
Or give the gift of music. Fill an iPod with your giftee's favorite music, which can be a powerful mood modulator and cognitive boost. Music therapy is real.
Safety First:
Remain calm.
One of our colleagues who works at a PACE program has heard this Therababyreally soothes some older adults with dementia and behavioral disturbances- such as dreaded, nonspecific "agitation" and wandering.  (Credit: Dandan Liu).
Just give in.
The iPad.
Yes, older adults can use it. Here are some articles (hereand here) to help you figure out how, but don't discount your very oldest friends because they were born 80 years before its debut. Put your Photostream on it, install Skype for calls, or Evernote to share notes and letters. (Credit: Kathryn Eubank)
A guilt buster.
These are for older family members who wish they saw you more often, and let you know it! Get a calendarof family photos. You wish you could be there more often, but for now you'll have to be smiling from the wall by the microwave.
A geripet.
A bit time intensive, but worth it for the right person- get ageriatric dog! My family's approach to keeping my grandfather alive, who outlived his
dogs time and time again, was to keep replacing his dogs. As someone
who loved the pitter patter of miniature dachshund feet, it was fairly
transparent that my family assumed he would never leave them behind.
That worked for decades.
Interestingly, there are many older dogs that need adoption and programs all over the country. These older dogs are often much calmer compared to puppies and already trained. Consider gifting one if your giftee could take it. (Inspired by Helen Kao)
by: Anna Chodos