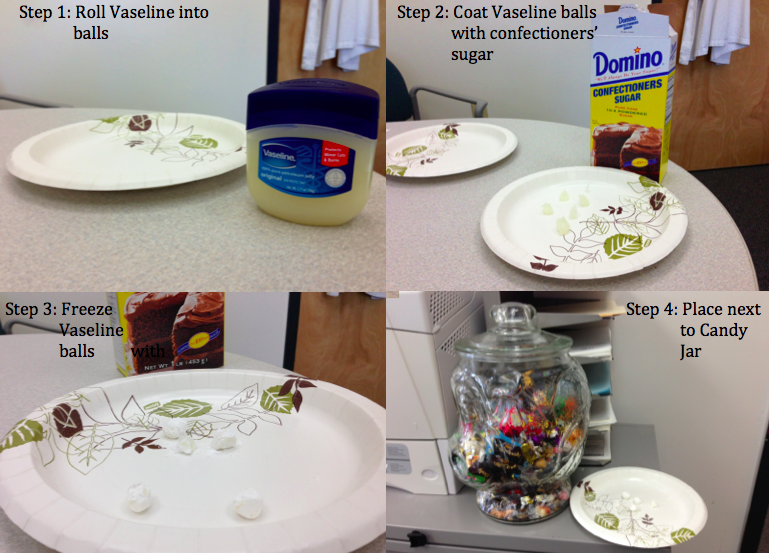 Note: Before you read any further, please consider taking Candice Tavares' 3 minutes survey on use of Vaseline balls (www.vballsurvey.com) in hospice and palliative care. Candice is currently completing a specialty practice residency in palliative care and can really use your help with her research project evaluating the opinions and experiences of hospice and palliative care nurses, pharmacists and physicians with the use of petroleum jelly oral preparations for the management of constipation.

The first time I've ever heard of Frozen Vaseline balls was at this years AAHPM annual meeting. At first I thought it was a joke, but after seeing several tweets go out about this, I thought that eventually I'd need to look it up. We'll the time has come.
Frozen vaseline balls for constipation/impaction.Not published but I'm wondering why not study it. Get an Ignobel prize? #HPM

— Christian Sinclair (@ctsinclair) March 9, 2012
Tip frozen Vaseline ballswork really well for constipation #HPM

— Jeanette Ross (@RossJeanette) March 9, 2012
A Little History
First, lets talk a little history. Petroleum jelly, was first discovered in 1859 after
Robert Chesebrough, distilled black "rod wax" found on oil rigs to a thinner oil product. Chesebrough branded his petroleum jelly as Vaseline and started marketing it as a miracle cure for things like cuts and burns. Overtime, the uses of this petroleum jelly expanded to a wide range of products that include hair pomade, "personal" lubricants, and lip balm.
Vaseline Balls for Constipation
Well, somewhere down the line, someone got the bright idea to do the following to Vaseline: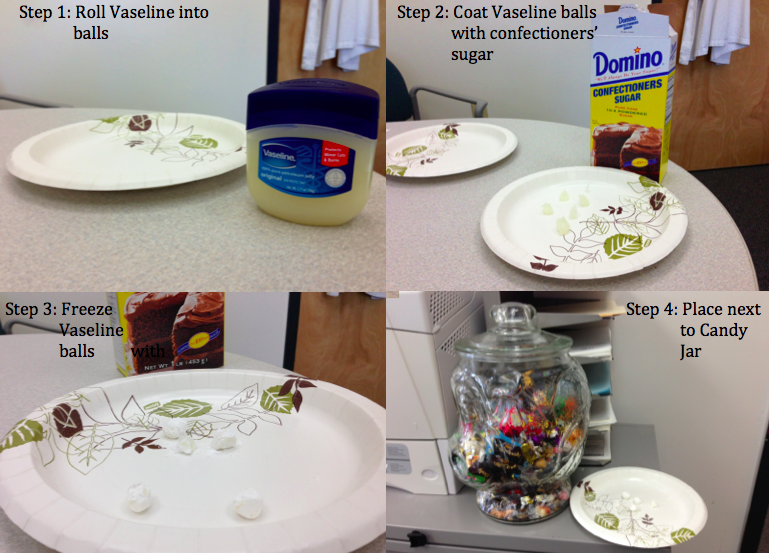 How to make Vaseline Balls
Yup. We just made some Vaseline Balls. We
Rolled Vaseline into pea-sized sugar-coated balls,
froze them,
attempted to administer them orally one to three times a day.
I can't say they are delicious, but in 24 hours we'll tell you if they were effective as a laxative.
The Evidence
So beyond this anecdotal statements about their effectiveness, what is the evidence that Vaseline balls help with constipation? Well, there is really nothing on PubMed that suggests it helps (really nothing – no case reports, no cohort studies, no controlled trials).
You can look at mineral oil, a related substance, and make some extrapolations with the evidence for its use for constipation. However, I don't think I've ever given mineral oil by any other route than enema as aspiration or inhalation of fatty substances like mineral oil can cause lipoid pneumonia. Most of the case reports of lipoid pneumonia have implicated mineral oil used as a laxative, but other lipid substances can also cause the disease, including petroleum jelly.
Fire Breather's can also develop Lipoid pneumonia due inhilation of substances like liquid paraffin


A Question
What do you think? Have you seen it used? Is this another case like "ABH" gel for nausea that has little evidence for its effectiveness but is often used? I'd love your thoughts.
by: Eric Widera (@ewidera)