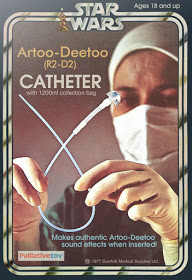 by: Eric Widera (@ewidera)
The word "palliative" is popping up in a lot of unexpected places of late.
Sometimes its used in combination with the word "care" but not in the traditional way we think of usual palliative care practice. One just has to go back to Alex Smith's post of a recent JAMA study on "palliative care" meetings in the ICU or Elizabeth Lindenberger's wonderful post in Pallimed about the same study. Let's just say that the term palliative care is used loosely in the discussion section of the manuscript and newspaper articles written about this study.
Another great example is brought to us by Drew Rosielle's post inPallimed on the term "Palliative Sedation":
"Besides the ridiculously confusing nature of the phrase 'palliative sedation,' it's another example of the myriad ways in which 'palliative' is used: care-which-is-palliative, care-which-is-given-by-a-palliative-care-team, palliative pediatric cardiac surgeries, palliative chemo, used synonymously with 'comfort care', 'going palliative' etc etc. It just makes it worse for us to have the term pegged to this practice which, strictly defined, seems to happen very rarely in the US (deliberate, deep, continuous sedation), and reinforces an image of our care teams as people who just drug the hell out of patients."
However, the best example of palliative care branding is this gem brought to us by good folks at Scarflok Council (for those who may not be in the know, it a town which is forever locked in the 1970s). May I present to you #palliativetoys by SMS (no, not "Symptom Management Service", but rather "Scarfolk Medical Supplies"):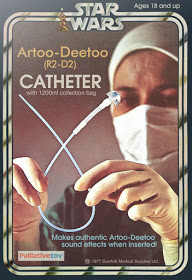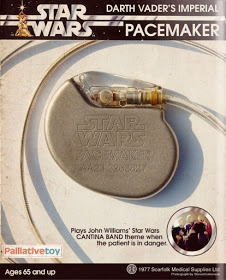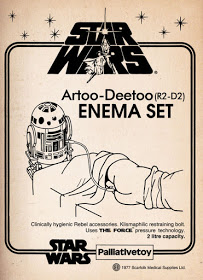 Do you have any other examples of "palliative" branded products (aside from the usual palliative chemo and palliative surgery) that you can share?