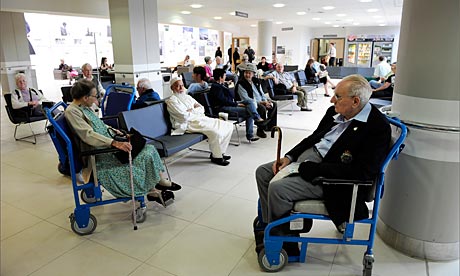 Age discrimination can have many negative effects on the livelihoods of older people. Among these effects are poor health outcomes in older Britons suffering from cancer, according to a recent report from the King's Fund, a health think tank, and Cancer Research UK.
In 2004-2005, England was spending close to £4 billionon cancer care, its 4th largest health expenditure among 24 health conditions. Although England's healthcare spending is similar to other European countries, its health outcomes are worse in older adults with cancer. The report titled "How to improve cancer survival: Explaining England's relatively poor rates,"looks at why poor health outcomes exist among cancer patients.
The report shows that cancer survival rates in England are worse than in other countries due to late diagnosis, delayed treatment, and under-treatment in the older patient population. Age is considered an influential factor in delaying cancer diagnosis, and older cancer patients reportedly receive less evaluation by cancer specialists. When they do, they are oftentimes offered fewer treatment options as a result of "age bias".
Is age bias reflective of the values system in England and of the National Health System, and thus, is it responsible for the disproportionate rate of deaths due to cancer among older persons? Perhaps it is not age bias alone driving the poor health outcomes of older cancer patients, but maybe patients are choosing not to receive screening and non-standard treatments and clinicians are choosing not to offer these healthcare options due to the high rate of comorbidities and low life expectancies within this patient population.
The salient issue here is not whether older patients are receiving cancer screenings and treatment offered their younger counterparts, but whether they may actually benefit from these procedures. Would a frail 78-year-old woman with urinary incontinence and moderate cognitive impairment benefit from a mammography? Is age a discriminating factor associated with preventable deaths among older cancer patients?
The answers to these questions vary, depending on the source. The literature on benefits and burdens of cancer screening and treatment in older persons is contradictory at best. Below is a sampling of a handful of studies presenting diverse perspectives on the issue:
By: Julie N. Thai [GeriPal International Correspondent]