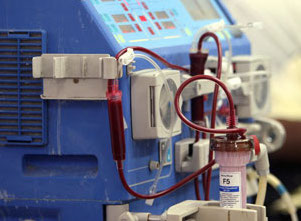 by: Eric Widera (@ewidera)
Some of the best evidence for palliative care comes from interventions focused primarily on individuals with advanced cancer.  The problem is that most people in the United States die from diseases other than cancer.    So, how well do we serve them?
A new study published today by Melissa Wachterman and colleagues compared patterns of end-of-life care and family-rated quality of care for patients dying with cancer and other different serious illnesses.   What they found continues to demonstrate the benefits of palliative care, but also shows that we need to expand our world view beyond cancer.
The Study
The authors looked at inpatient deaths in 146 medical centers within the Veteran Affairs health care system between 2009 and 2012.  They further restricted their analysis to patients with clinical diagnoses categorized as end-stage renal disease, cancer, cardiopulmonary failure (congestive heart failure or chronic obstructive pulmonary disease), dementia, frailty, or "other" conditions.
They compared patterns of end-of-life care and family-rated quality of care for these patients by looking at rates of palliative care consultations, do-not-resuscitate orders, deaths in inpatient hospices, and deaths in the intensive care unit.  They also evaluated family-reported quality of end-of-life care using the Bereaved Family Survey.
What they found
1.Palliative care consultations are much more common in those with cancer.
Among the 57,753 patients who died, 74% of patients with cancer had palliative care consultations.   The percent who received palliative care consultations dropped from there: dementia (61%), ESRD (50%), CHF or COPD (47%), and frailty (44%).
2.Patients who die of things other than cancer and dementia die more often in the ICU.
Around a third of patients with ESRD (32%), COPD/CHF (34%), and frailty (35%) died in an ICU, much higher than that seen in patients with cancer (13%) and dementia (9%).
3.Family-reported quality of end-of-life care was significantly better for patients with cancer and dementia than for patients with ESRD, COPD/CHF, or frailty.
Excellent quality of end-of-life care reported by families was similar for patients with cancer (59%) and dementia (59%), but less for those with ESRD (55%), CHF/COPD (55%) and frailty (54%)
4. When palliative care consultations occur for these other diseases, it levels the field
Palliative care consultations mediated most of the diagnosis related variation in family-reported quality of end-of-life care.


Take Home
Improving end of life care for individuals with cancer is important, but its not the only thing that individuals die from.   As a field, we need to do more to improve access to palliative care for everyone living with a serious illness, no matter what the diagnosis.