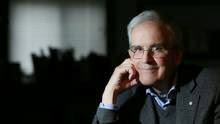 by: Alex Smith, @AlexSmithMD
In 1976, Balfour Mount published a landmark description of the first palliative care unit, in the Royal Victoria Hospital, Montreal.  He opens with this quote from John Hinton's Dying:
We emerge deserving of little credit; we who are capable of ignoring the conditions which make muted people suffer.  The dissatisfied dead cannot noise abroad the negligence they have experienced.
Bal Mount goes on to decry decreases in physicians and nursing visits as death becomes imminent, longer response times to care for dying patients than those expected to recover, and isolation, distrust, and suspicion that arises from lack of communication between patients, family members, nurses, and physicians.
How far has palliative care come as a field in the intervening 40 years?  What can we say about palliative care and how it helps or does not help people?  How well have we advanced care for those seriously ill people whose voices are "muted," and the "dissatisfied dead?"
Off the top of my head, I'd argue that we have made 3 major advances as a field, and we have 3 major challenges ahead of us.
Advances
Palliative care is now in more hospitals than just "the Royal Vic."  At last count 67% of US hospitals had a multidisciplinary palliative care team.
The focus has shifted from caring for the "dying" to caring for the "seriously ill."  This change is due to several factors, including challenges and uncertainty in prognostication, lack of clarity about when someone is "dying" (we're all dying in some sense), and the recognition that palliative care is better when it's delivered early, when most people don't consider themselves to be "dying" (yet).
The evidence base has improved dramatically.  A terrific recent systematic review and meta-analysis by Dio Kavalieratos in JAMA found that palliative care interventions improved quality of life and symptom burden without shortening survival.
Challenges
Outpatient and community palliative care.  While palliative care has grown by leaps and bounds on the inpatient setting, outpatient and home-based services lag behind.  This gap exists despite the bulk of the trials in the Kavalieratos review coming from the outpatient, rather than inpatient setting.
Resource poor countries lag far behind wealthy nations in developing palliative care programs.  This poorly named "Quality of Death" index ranks countries by their attention to palliative care, finding that wealthy nations are clustered near the top.  Exceptions are noted, including Panama and Mongolia, resource poor nations that are building palliative care into the healthcare infrastructure, and Russia, a wealthy nation that ranks near the bottom of the list.
Staying humble.  We live in uncertain times.  We are continually surprised by unintended consequences, mis-reading the moment, and challenges from unexpected places.  The opioid epidemic is real.  Some few hospices do prioritize profit too highly.  Trump is considering Sarah Palin to head the VA.
In these uncertain times, we must stay humble and keep the focus on what matters most: our mission.
We care for people whose voices are muted.  We care for woman with dementia in the nursing home who can't speak for herself.  We care for the veteran who has been living on the streets, struggling with PTSD and alcohol addiction, and now has throat cancer.  We care for the child who says he wants to stop chemotherapy and we care for his parents.
To stay the course of progress, we must keep the focus on making their voices heard.