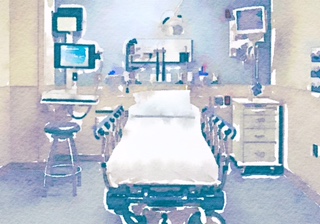 Today was a big day for palliative care.  Really big.  Why?   Because today we have the strongest evidence to date that integrating specialized palliative care into usual care not only helps those individuals with life-liming diseases like metastatic lung cancer, but also those undergoing potentially curative therapies.
In todays JAMA, El-Jawahri and colleagues describe a single-center randomized clinical trial of 160 adults hospitalized for hematopoietic stem cell transplantation.   These individuals either received specialist palliative care integrated along with usual transplant care or just usual transplant care.  Those assigned to palliative were seen by palliative care clinicians at least twice per week during hospitalization, with the focus primarily on addressing physical and psychological symptoms.
The usual course of stem cell transplant is one that includes worsened quality of life, increased symptom burden, and worsening mood, all of which were seen in the usual care group over the course of 2 weeks.  However, those assigned to palliative care had a smaller decrease in quality of life from baseline to week 2 compared with the usual care group.  These patients also had less depression, anxiety, and symptom burden during this time.  What is also impressive is that caregivers of patients receiving palliative care had a lower increase in mean depression scores in the first two weeks (although no significant change in quality of life).
Three months after the stem cell transplant, patients in the palliative care group had higher quality of life scores and less depression symptoms than those assigned to usual care, although there was no significant differences in anxiety, fatigue, or symptom burden.
To turn these results into a change in clinical practice is going to take a fair amount of leg work.  As I mentioned in an editorial the I co-wrote with Preeti Melani, the current state of palliative care integration in the care of stem cell transplant patients is pretty much summed up with the finding that only two individuals in the control group received formal consultation despite a protocol that allowed patients, caregivers, or transplant clinicians to request palliative care involvement.   This argues that having palliative care just available for consultation may not be enough, rather we should be striving to make it a normal part of the stem cell transplant standard of care.
by: Eric Widera (@ewidera)
Here are the links to the palliative care articles published in this weeks JAMA, which includes a systematic review on palliative care: