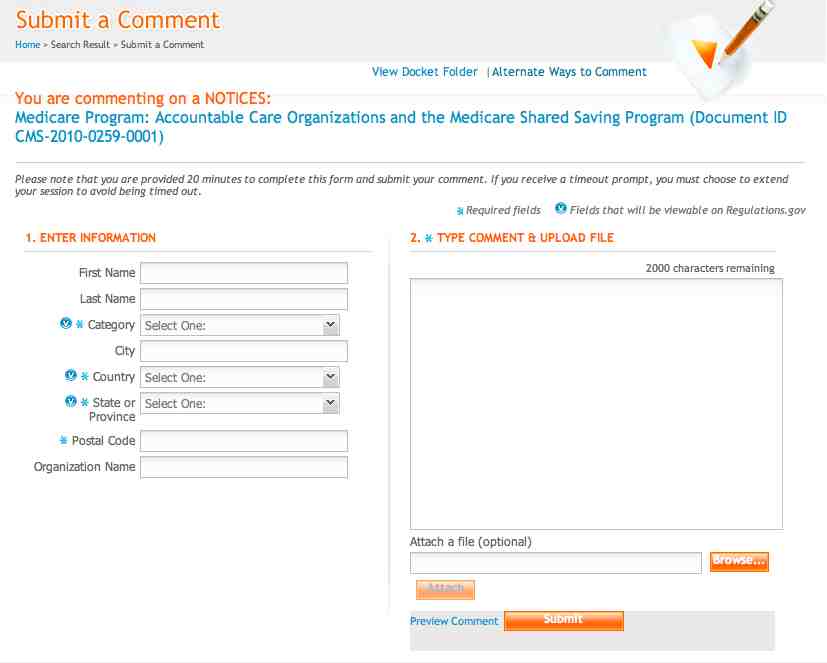 Accountable care organizations (ACO's) are coming with a goal of creating a health care system that delivers higher quality care more efficiently. Important to both the palliative care community and the geriatrics community is whether our voice will be heard in developing the standards required of these organizations.  Don Berwick and his crew at CMS is now giving us the chance.
There is a special request for comments regarding certain aspects of the policies and standards that will apply to ACOs participating in the Medicare program under section 3021 or 3022 of the Affordable Care Act. The request can be found at regulations.gov under the document number: CMS-2010-0259-0001.
The deadline for comments is December 3rd, so there is little time to act. Lucky for us, Diane Meier has offered some guidance in formulating a response to three main questions posed in this call for public comments. Here are her possible talking points that you can consider putting in your comment:
Question 1: How should we assess beneficiary and caregiver experience of care as part of our assessment of ACO performance?
Require evaluation of patient and family goals of care, using for example POLST and advance care planning
Determine patient-family recall of discussions about care goals, and degree to which care actually received is concordant with goals
Require access to quality palliative care and Medicare-certified hospices as a condition of participation in an ACO.
Assess penetration of and receipt of palliative care among high need high cost patient populations across diagnostic categories.
Question 2: The Affordable Care Act requires us to develop patient-centeredness criteria for assessment of ACOs participating in the Medicare Shared Savings Program. What aspects of patient-centeredness are particularly important for us to consider and how should we evaluate them?
The most important aspect of "patient-centeredness" is the degree to which informed and achievable patient and family goals for care are elicited, documented in an accessible and retrievable manner, and actually followed in the care plan.
Question 3: In order for an ACO to share in savings under the Medicare Shared Savings Program, it must meet a quality performance standard determined by the Secretary. What quality measures should the Secretary use to determine performance in the Shared Savings Program?
Quality measures should include advance care planning; occurrence and timing of palliative care services among appropriate patient subgroups; occurrence and timing of hospice services among appropriate patient subgroups; symptom burden; patient confidence that someone on the team knows them and can be reached after hours; degree to which patients families believe they know what to expect and are prepared to handle their illness; degree to which family needs are assessed and addressed among appropriate patient subgroups
Dr. Meier makes clear that the goal of our comments should focus on making the point that an ACO must require access to quality palliative care for its sickest high need and high cost patients in order to assure that care is directed by and concordant with patient and family goals, and not by strong ACO incentives for cost containment.
We have little time to act, and action has never been easier.  Just click on the link and submit a comment.  To make your lives a little easier, the following is a draft outline that you can use in your comment:
Introduce yourself as palliative medicine clinician or health professional.
Define palliative care as medical care focused on best possible quality of life, delivered from point of diagnosis of serious or advanced illness whether the goal of care is cure, life prolongation, or achieving a peaceful dignified death. In practice, consists of expert assessment and treatment of symptom distress including pain, anxiety, and depression; conduct of in-depth discussions with patients and families to establish achievable care goals and a care plan that meets those goals; and commitment to continuity of care and relationships across the many care settings that seriously ill patients must traverse over the course of an illness. Palliative care includes end of life care (hospice) but is not limited to it- it is especially important among Medicare and Medicaid beneficiaries with advanced disease and/or multiple chronic conditions with functional impairment- a group who are not predictably dying and who may live for many years with a significant burden of disability and medical needs.
Point out that recent studies demonstrate that palliative care and hospice care (for those in last 6 months of life) have been shown not only to improve quality of life and satisfaction with care, but also to significantly prolong life (see Alex's GeriPal post) and does so at lower cost because it helps patients stay in control and out of hospitals.
The core strategy of palliative care is to help informed patients and families determine their achievable goals for care and then helping to make sure that medical care received helps patients achieve those goals.
The goal of ACOs is to incent quality and not quantity and to coordinate the full range of providers. Because of ACO-associated changes in financial incentives that will reward efficiency and "doing less", the risk of undertreatment- reduced access to needed care- and consequent poor quality of care is greatest for high need high cost patients. To counter that risk, ACOs should be required to provide access to specialists trained in care of this complex high need patient population across diagnostic categories, and specifically trained in the skilled communication necessary to elicit achievable care goals throughout the course of illness. Providers with this training work in palliative care programs (mostly hospital-based) and in hospices.
Act now and comment at at regulations.gov.
by: Eric Widera (with input from Diane Meier, Alex Smith, Christian Sinclair, and Phillip Rodgers)