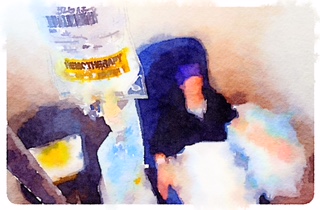 by: Eric Widera (@ewidera)
So yesterday I wrote about the rapid uptake of using antipsychotics for insomnia in the hospital setting and wondered "when did this become a thing?"   Today, I'll like to talk about antipsychotics for nausea by first asking that same question.
When did antipsychotics for nausea become a thing?  A long time ago.  Haloperidol and other anti-dopaminergic agents like metaclopromide have a long history of use both in the hospice, palliative care, and oncology setting.  Now we have a little more evidence that at least one of these drugs, olanzapine, may help with the prevention of chemotherapy induced nausea and vomiting.
The Study
A double-blind, randomized control study published in the NEJM last week compared 10mg olanzapine with placebo for 4 days, in addition to usual care with dexamethasone, aprepitant or fosaprepitant, and a 5-HT3 receptor antagonist, in 380 patients with no previous chemotherapy who were receiving cisplatin or cyclophosphamide–doxorubicin (two highly emetic agents).  The primary outcome was nausea prevention.  Secondary outcomes including no emesis and no use of rescue medication.


What they found
Not shocking for those who have been doing this work for a while – adding an anti-dopenergic agent works.   The proportion of patients with no chemotherapy-induced nausea was significantly greater with olanzapine than with placebo for multiple time points:
0 to 24 hours after chemotherapy: 74% vs. 45%
25 to 120 hours after chemotherapy: 42% vs. 25%
Overall 120-hour period: 37% vs. 22%
The complete-response rate was also significantly increased with olanzapine compared to placebo during the three periods:
0 to 24 hours after chemotherapy: 86% versus 65%
25 to 120 hours after chemotherapy: 67% versus 52%
Overall 120-hour period: 64% versus 41%
The biggest adverse effect was sedation which was severe in 5% of patients at day 2, but nobody stopped the study because of sedation.
Take Home Point
While this is a study of a particular antipsychotic, olanzapine, one does have to wonder if there would have been similar findings if they used a tried and true hospice medication: haloperidol.  Nevertheless, it does serve as an important study addressing one of the most common symptoms we see in palliative care.