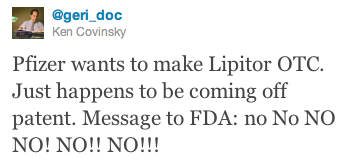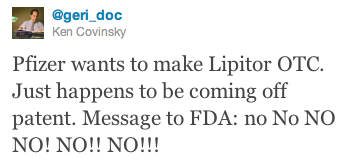 The New York Times just published an excellent piece by Paula Span on a plan by Pfizer to make its cholesterol blockbuster drug Lipitor an over-the-counter (OTC) medication. A couple things caught my eye when reading this piece, not the least of which was the story was picked up by the Times after this tweet by our very own Ken Covinsky (FYI, in the twitterverse, Ken goes the name @geri_doc):
Pfizer wants to make Lipitor OTC. Just happens to be coming off patent. Message to FDA: no No NO NO! NO!! NO!!!
Well it looks like Ken's excellent use of exclamation marks worked, as it did get attention. But what's the big deal? It's just Lipitor.
As Paula Span reports in the Times, a statin going over the counter is a big deal, both from a financial perspective for Pfizer, and from a patient safety perspective. Lipitor's patent protection expires this November when at least one generic comes to the US market, so Pfizer is desperately looking for a way to continue milking this cash cow. One of their current ad campaigns shows just how nervous they are about patients switching to generics:
"If you're taking Lipitor for high cholesterol and it's working, why switch?"
Claritin is a great example of a drug company desire to fight for room in the over the counter shelf once patent protection was lost. Claritin was bringing in $3 billion prior to losing US patent protection in 2002. Schering-Plough protected some of those sales by launching an over-the-counter version of Claritin. Last year, that over-the-counter version had $400 million in sales. Not as good as pre-patent protection, but still a nice chunk of change.
So, if Lipitor over-the-counter is a win for Pfizer, is it also a win for patients? Paula Span's article does a much better job than I could ever do in clarifying both the pros and cons of making a drug like Lipitor over-the-counter, and I encourage you to read it and comment at the New Old Age website.
However, you may also just decide that the world has gone mad at even the notion of making something like Lipitor over the counter. If that's the case, have no fear. Both Seroquel and Zyprexa are coming off patent protection in 2012.
by: Eric Widera