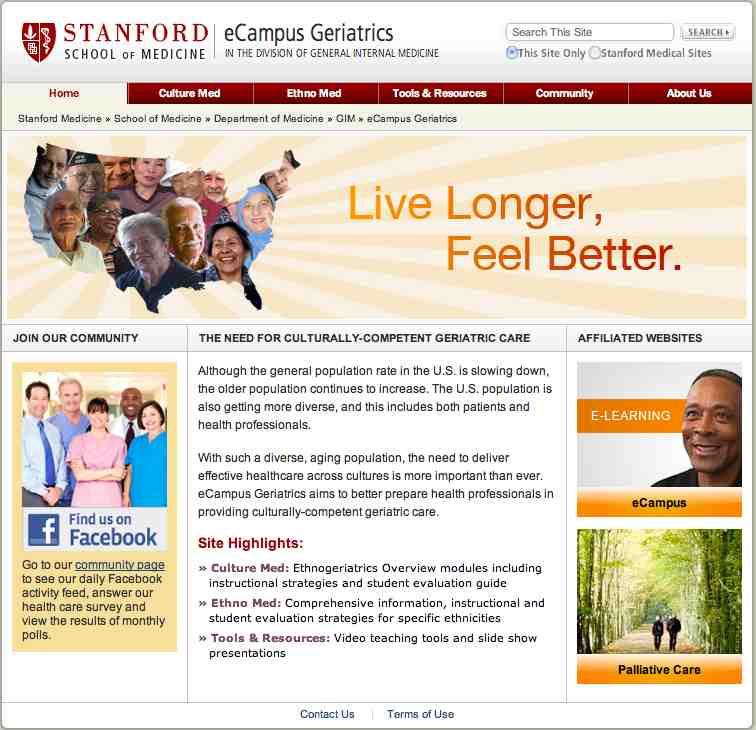 By the middle of this century, one out of every three older Americans will be from a diverse group of minority populations. How can we provide culturally effective care for this growing heterogeneous population? VJ Periyakoil, fellow GeriPal contributor and director of palliative care education and training at Stanford, just came out with one way – the eCampus geriatrics portal.  eCampus Geriatrics is an educational website that offers a range of tools and resources to help health-care professionals provide culturally-competent geriatric care.
The site is currently split among three main components. The first is "Culture Med" – a collection of five ethnogeriatrics modules that include instructional strategies and a student evaluation guide. Topics include an introduction, an overview of patterns of health risks and mortality The second is "Ethno Med", where one can find detailed information on specific ethnicities, as well as instructional and student evaluation strategies. The third section, "Tools and Resources", offers video teaching tools and slide show presentations.
The ethnogeriatrics overview is split into 5 modules. These include an introduction to ethnogeriatrics, an overview on the health and mortality risk among elders from diverse ethnic backgrounds, a summary of major systems of health beliefs, a module on culturally-competent geriatric assessment, and a module on culturally-competent delivery of care.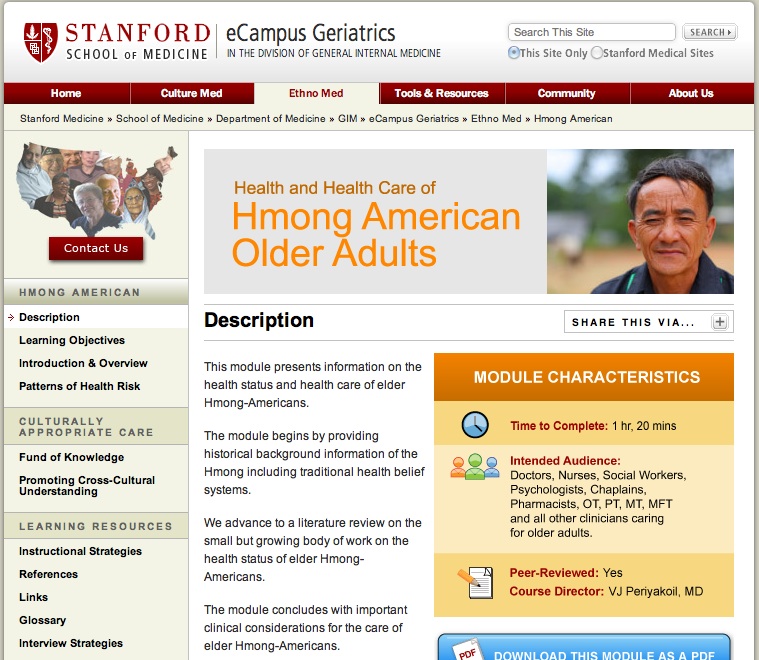 The Ethno Med section stands out for its depth and breadth of content. It includes 13 ethnic-specific modules on the health and health care of multi-cultural older adults. The major ethnic groups covered include African Americans, Alaska Natives, American Indians, Asian Indian Americans, Chinese Americans, Filipino Americans, Hawaiian and Pacific Islanders, Hispanic/Latino Americans, Hmong Americans, Japanese Americans, Korean Americans, Pakistani Americans, and Vietnamese Americans.
I spent a good deal of time on the site this weekend and enjoyed the interface and the content. The only feedback is that I wished there was a "next" button that moved me along the modules. Otherwise, VJ and her colleagues did an outstanding job in setting up this resource.
Please check it out and comment below.
by: Eric Widera