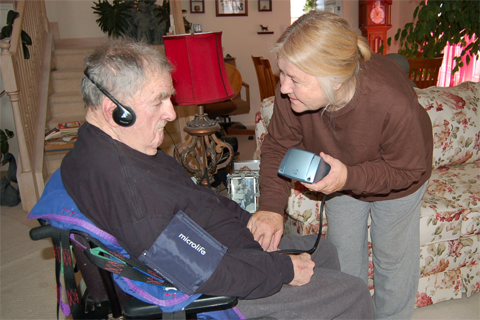 A frail older patient has reached the point that living independently at home is no longer possible and family are not available to provide care. You prepare to discuss recommendations for a different site of care, and as you begin to broach the topic, you immediately hear, "But I don't ever want to live in a nursing home!" Wouldn't it be nice to have good alternatives!
Assisted living often is incapable of meeting the frailer patient's needs.
The Green House model is one way of de-institutionalizing care facilities by creating small communities with high level care, and worth a look if you are not familiar with them, but there is still an institutional component to them.
A truly exciting alternative from the Department of Veterans Affairs is Medical Foster Homes. Watch the recent profile on NBC's Making a Difference and you will be won over. Like foster care for children, Medical Foster Home (MFH) places frail older patients into family homes. Medical Foster Home is a type of Community Residential Care home that provides family-style living with room, board and personal care. MFH caregivers open their homes and hearts to take in one, two, or three Veterans and provide 24 hour supervision and personal assistance as needed. Every MFH patient receives care from a VA Home Based Primary Care team with in-home medical care, oversight, and training and support for caregivers.
The program has been in existence now for 12 years, and was the brainchild of Tom Mclure and Judy Karlins of Little Rock, Arkansas. Over 1,500 Veterans have been cared for in MFH programs in 38 states with expansion underway to 102 VA facilities in 48 states.
The key to success lies in the caregivers. Unlike many assisted living settings, each VA MFH is a small personal home of the MFH caregiver who lives there, there are no more than 3 residents receiving care, and every MFH resident meets nursing home level of care. Caregivers are paid by the veteran, but the expectation is that this is a long-term commitment. I especially like the VA's Caregiver assessment tool and think it could be useful for GeriPal Providers. Watch the NBC video above and I think you will agree with the assessment of Dr. Tom Edes, that Medical Foster Homes are "where heroes meet angels."
by: Paul Tatum (@doctatum)