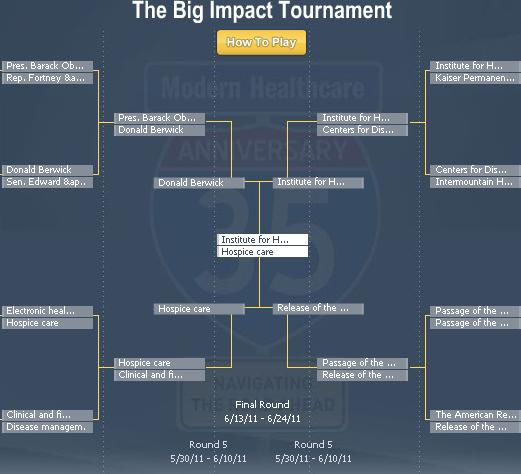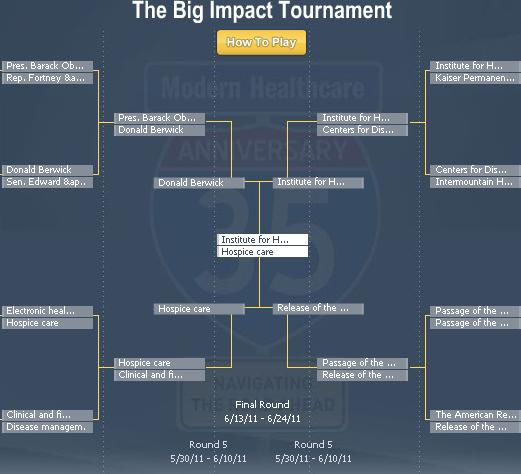 "Hospice Care" is up against "Institute for Healthcare Improvement" (IHI) in the ModernHealthcare finals!
OK, it's kind of a ridiculous idea. But hey, it's fun! March madness style pitting of ideas, groups, and people against each other.
Notables who didn't make it to the finals:
President Obama. Lost in the great 8 to his appointee for the Centers for Medicare and Medicaid, Don Berwick.
Don Berwick, who lost in the final 4 to the organization he created (IHI)
The Patient Protection and Affordable Care Act (Health Reform). Lost in the great 8 to the Institute of Medicine Report "To Err is Human".
The Health Insurance Portability and Accountability Act (HIPAA). Who on earth is voting for HIPAA? This darkhorse made it to the round of 32.
Note – if I'm counting correctly, "Hospice" was a 12 seed! We're the Cinderella team, how can you not vote for us? We crushed the #1 seed in our bracket "Electronic Health Records" 61% to 39%.
Vote here! You can vote daily! Tell your friends – tweet it, facebook it, blog about it. (note – the website uses flash, doesn't work on ipads/ipods). Voting ends June 24th, 9 days from the date I'm writing this post.
Yes it's silly, but these things do matter in some sense. A demonstration of public support for hospice above other healthcare ideas, organizations, and individuals is only to the good.
by: Alex Smith