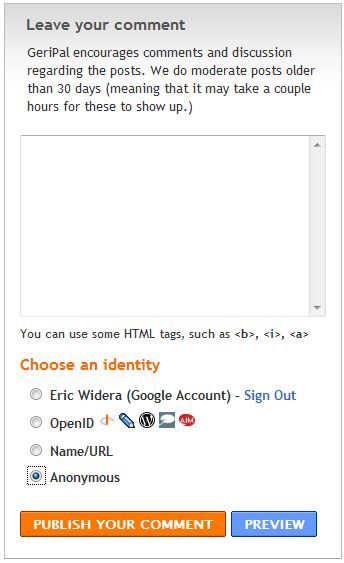 It has almost been a year since our first post here on GeriPal. Since this first post we have had 56,341 pageviews and 29,087 visits from over 106 countries, in addition to the 600 people that regularly subscribe to our feed. Our community is growing stronger everyday and our goal is to make the site grow with it. Here are a couple of important changes that you should know about: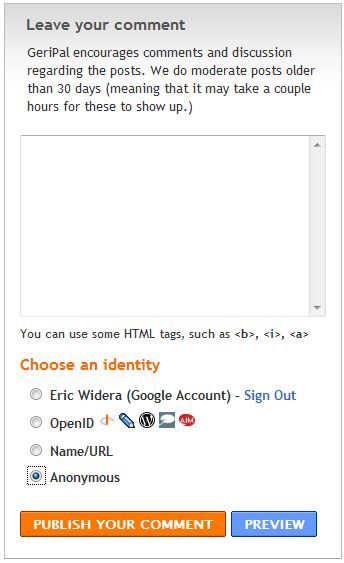 1. Email subscriptions: we will be changing the email address that our blog uses to send out our posts. Starting on Friday night it will change to feeds@geripal.org. If you stop getting our emails please check your spam filters (Let me know if you still don't get them by emailing me at eric.widera@ucsf.edu).
2. Comments: Our Year 2 goal is to increase the amount of comments for each post. Comments are the heart of this blog – serving as the main way we can learn from each other. To comment on GeriPal please go to the bottom on the post in the GeriPal website and click the "Post a Comment" link. A form will pop up where you can type your comment, choose a name (either anonymous, manually entered name, opened, or Google account), and then click publish. It's that easy. If you are reading the post on email click on the "Comment" link to get to the form.
4. Apps: Got an iPhone? Download our new GeriPal app! You can check it out at http://itunes.apple.com/us/app/geripal/id365844040?mt=8
5. Facebook: Are you on facebook? If so, add GeriPal as a friend at our new site – http://www.facebook.com/GeriPal.
6. Feedback: We are looking for feedback to improve GeriPal. Please comment below on ways you think we can make it better.
by: Eric Widera