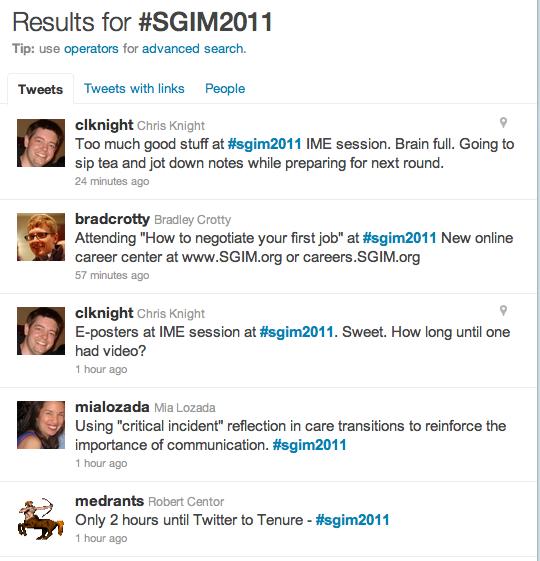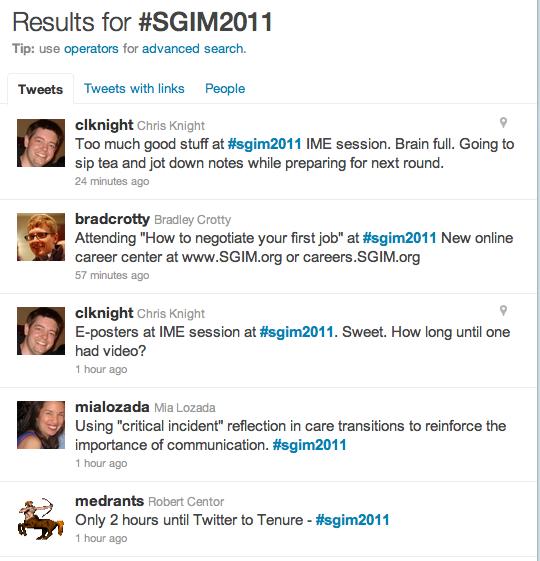 I have the distinct honor of wrapping up the online prelude for the SGIM Social Media Workshop "From Twitter to Tenure". So far we have heard from Alex Smith (@AlexSmithMD) from GeriPal, Vinny Arora (@FutureDocs) from Futuredocs, Bob Centor (@medrants) from DB's Medical Rants, and Kathy Chretien (@MotherinMed) from Mother's in Medicine.
The previous posts all describe how social media can advance an academic career. Rather than restate many of the same points, I'll just summarize many of the themes brought up by these clinicians, while highlighting my own personal story.
1. Learning to write: The most important lesson blogging has taught me is that telling a good story is hard, and that I need a lot of practice to become a better writer. That's why I love blogging as it forces me to write. As opposed to writing for an academic journal, which often takes more than a year from concept to publication, blogging gives me the opportunity to practice my skills on a weekly basis while receiving immediate feedback from my community of peers. This same point is echoed in both Kathy Chretien and Bob Centor's posts, with Bob stating it very nicely in the following quote:
"The most important old lesson is that one must write to become a better writer. Blogging made writing a habit."
2. Building national connections: On a day to day basis we all spend most of our time in our local community. As important as this is, academics requires junior faculty members to quickly become known on a national stage. Annual meetings are a great way to do this, but they only occur, well, annually. Social media allows me to meet people throughout the year and develop connections that I would never have the opportunity to create.
3. Amplifying your voice: the reason that Alex and I initially started GeriPalwas that we wanted a place to express our opinions for everyone to see. We found that the more we wrote the more people read. As Bob Centor wrote in his blog post, this helped us build a brand and also gave us some street cred. For instance, writing on topics that were important to me has led to several interviews with the New York Times.
4. Helping others: As Vinny Arora wrote in her post, blogging has also led me to be an advocate for social media through giving abstracts and workshops on this topic. I was a co-presenter at two AAHPM workshops on using social media to promote palliative care. How did I meet my other presenters including @ctSinclair? You guessed it – blogging. I have also been asked to be part of the AAHPM External Awareness committee thanks to my online presence. Lastly, I get to meet folks like Bob, Vinny, and Kathy at 4:30 today when we give our SGIM 'Twitter to Tenure' talk (none of which I've actually met in person yet!)
These are just some of the reasons on how social media can advance your career as a health care provider. If you want to learn more, check out the full posts from Alex, Bob, Vinny, and Kathy at:
Sunday – Alex Smith (@AlexSmithMD) on GeriPal
Monday – Vinny Arora (@FutureDocs) will post on Futuredocs
Tuesday – Bob Centor (@medrants) will post on DB's Medical Rants
Wednesday – Kathy Chretien (@MotherinMed) will post on Mother's in Medicine
by: Eric Widera