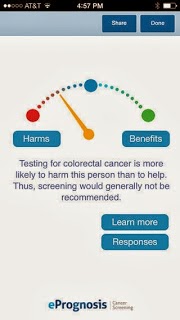 by: Alex Smith @alexsmithmd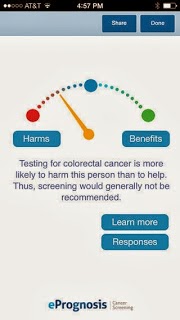 We need your help.
We've come a long way with ePrognosis, our online and now mobile tool kit to estimate life expectancy in the elderly. To quickly review:
Published systematic review of prognostic indices for older adults (JAMA link)
Launched ePrognosis in January 2012.
Over 1 million page views since launch, most from mobile devices
Launched mobile-friendly responsive web-design version of ePrognosis this summer (2013). Responsive web design allows you to access ePrognosis from a web browser on any size device – a PC, laptop, tablet, or phone. The website will automatically resize the browser window and the information in the window for the size of screen you are using.
ePrognosis users said the "bubbleview" home page was too complicated. They just wanted to be quickly pointed to the best index for the patient in front of them. We re-designed the landing page to be much simpler, asking easy questions that quickly take users to the highest quality index for the clinical situation at hand (e.g. a nursing home patient with dementia is taken immediatly to Susan Mitchell's index).
How can you help? We need feedback from users! What are we doing right? What can be better? We welcome all feedback, from small fixes to big ideas. Even if you're not a user – tell us why not?
With generous support from the John A Hartford Foundation, we are having a conference in January, 2014 to discuss Next Steps for ePrognosis. We are open to the idea of inviting and funding a particularly enthusiastic and helpful user or users to join our conference in San Francisco.
What are the next steps for ePrognosis? Please respond in the comments!