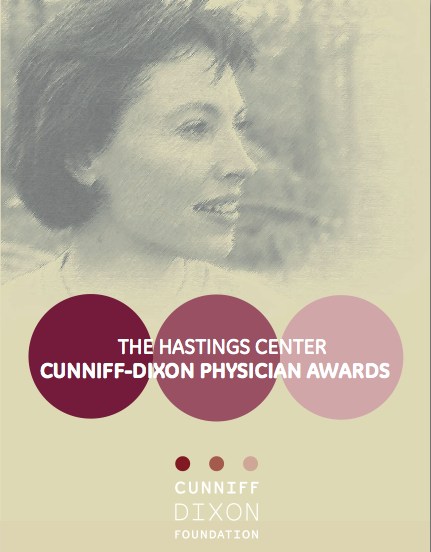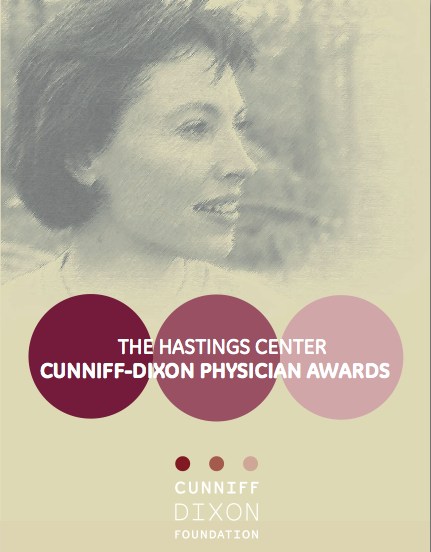 This is a special guest post by Bebe Guill – Consulting Program Director for CHAPI, the Collaborative on Healthcare for Aging / Advanced Illness Populations at the Health Sector Management program in the Fuqua School of Business at Duke University. She oversees The Hastings Center Cunniff-Dixon Physician Awards nomination process for The Hastings Center and the Duke Institute on Care at the End of Life.
____________________________________________________________
I have mixed feelings about awards. I often think they don't really matter – especially in cases where (as in many elementary school events these days) "everybody" gets one. Awards programs often seem ubiquitous, self-serving, and ultimately meaningless. Sometimes, however, I think awards matter too much. I've been second, third runner up in piano competitions, in foot races, in writing contests, and even bottom of the heap in grants competitions, (with accompanying scathing critique), often enough to know the unique sting of "also ran." Awards can encourage individual competition instead of much needed collaboration. Prizes can create a culture of exclusion rather than inclusion. After all, each time a single person is recognized, it means that countless other worthy individuals – and their worthy ideas and actions – are neither recognized nor especially encouraged.
But lately I've been convinced that awards really can matter. I believe, because my friend, Andy Baxter, founder of the Cunniff-Dixon Foundation, keeps proving it with annual cash prizes recognizing "good doctoring" with patients at end-of-life.
Created in 2005 in memory of Carley Cunniff and in recognition Carley's physician, Peter S. Dixon MD, the Foundation's annual awards program recognizes that the experience that Carley and her husband (my friend, Andy Baxter ) had at the end of Carley's life – a peaceful death at home with her family and loved ones – is one that occurs all too rarely. Determined to inspire and foster physician skills and virtues necessary to provide good end of life care more broadly, Baxter's Foundation created an awards program.
In collaboration with The Hastings Center, the Foundation provides substantial financial prizes to those physicians, young and old, who have shown their care of patients to be exemplary, a model of good medicine, and a benefit in advancing the centrality of end of life care as a basic part of the doctor-patient relationship. To date, awards totaling $285,000 have been presented to senior, mid-career, and early-career physicians. And, as Baxter wrote while on a plane back to New York after presenting 2012 awards to mid-career winner Dr. Michael Rabow in San Francisco and to early-career winner Dr. Jason Morrow in San Antonio, "The impact of these awards is simply going way beyond anything I think any of us envisioned. I have magic words: it works!"
Baxter's elation is contagious. I'm captured not just by his exuberance, but also by his description of the significant ripple effect of the awards. Baxter is seeing hospital administrators more willing to provide financial or managerial support, or at least listen to new ideas, if they are put forward by "an award-winning" doctor. Award winner Justin Baker, MD, FAAP at St. Jude Children's in Memphis, for example, reported that he was named head of the unit and got the OK on 2 FTE's immediately after the announcement of his award, thus pushing St. Jude's commitment to the public sphere.
In another example, Baxter cites award winner senior award winner Dr. Janet Bull, chief medical officer and principal investigator of Four Seasons, a nonprofit hospice and palliative care organization that serves the Hendersonville and Asheville regions of western North Carolina. Dr. Bull is directing her entire $25,000 award to the Four Seasons Hospice sister organization in Zambia.
Awards programs that work do exactly what we see with Drs. Baker and Bull: they have a definitive ripple effect, impacting not just the specific awarded person, but also leveraging their ideas, hopes, and passions for the benefit of others. For early-career physician winners, such as Savithri Nagaswaran, MBBS, DCH,MPH, director of the pediatric palliative care program at Brenner Children's Hospital at Wake Forest University Baptist Medical Center in Winston-Salem, N.C., the awards instill confidence that can make a huge difference in an already promising career. As Baxter notes, "Physicians like Savi are really laying down the gauntlet for the future of this area of medicine. And believe me, these young [docs] get the ramifications of what they are doing in terms of medical economics and national policy. They plan to change the world and we are giving them even more confidence. "
Public recognition of people who are changing the world of care at end of life is an awesome venture.
It puts faces on what "good doctoring" at the end of life looks like. It gives me and others who care about improving healthcare for aging/advanced illness populations the ability to point and say definitively "this is what it looks like – this is how it can be for you."
In the scheme of things, the Foundation's awards program is a relatively modest undertaking. As Baxter explains, "we do not have the financial resources of many other foundations. But our goals are lofty and meaningful, and we have passion about our endeavor. We believe that we can make a difference. "
And I believe that, too. These awards are making a difference. Yes, it's an individual competition honoring physicians, and only a few are chosen each year. But the ripple effect creates broader impact. This year, the awards committee is especially interested in broadening the field of nominations to include not just palliative care or hospice docs, but also physicians in primary care, geriatrics, or other fields that address the needs of aging/advanced/chronic illness populations.
So spread the word – tell your friends, colleagues, patients and their family members to nominate a worthy physician. Post it on Twitter and Tumblr and Facebook. "Good doctoring" needs to be recognized – who would you choose as your nominee?

2012 Award Winners
Nominations for this year's Hastings Center Cunniff-Dixon Physician Awards will be accepted through September 30, 2012. There are five annual prizes totaling $95,000; one prize of $25,000 for a senior physician; one prize of $25,000 for a mid-career physician and three prizes of $15,000 for early-career physicians. Nominees must be licensed US physicians. Any individual or group- including professional associates, patients, and families – may submit nominations.
Nomination forms and detailed instructions are available here. All inquiries and nominations should be directed to ICEOL@div.duke.edu.