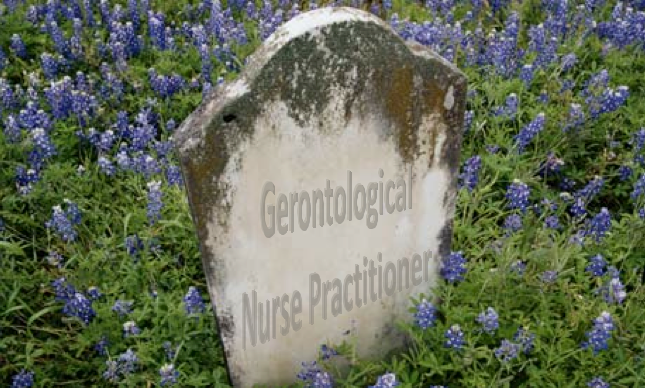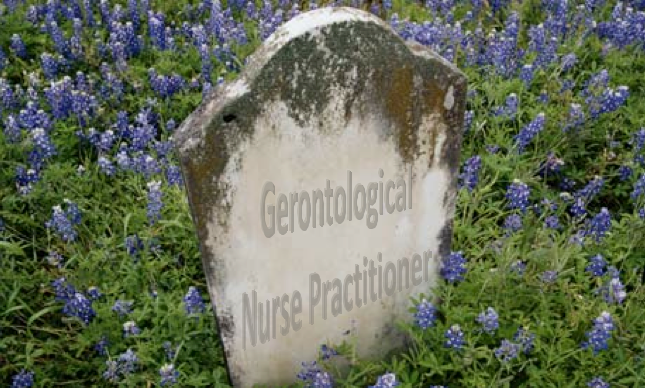 -By Joannie Ericson RN, MS
This is the second and last of the Death of the Gerontological Nurse Practitioner series. Part 2 is more aptly titled Death of the Gerontological Advanced Practice Nurse as both the nurse practitioner track and the Clinical Nurse Specialist track have died. For those you not familiar with the topic, Part 1 is here for reference.
Well, it finally happened… my colleagues and I recently became the final graduating class of University of California, San Francisco's (UCSF) Gerontological Nurse Practitioner (GNP)/ Gerontological Certified Nurse Specialist (GCNS) program. Shortly after we began our program two years ago, we received the news that the Gerontological Nurse Practitioner track would be eliminated and that we would thus be the final class to graduate from the program at UCSF. When we first heard the news, we were not only surprised, but also quite nervous about how it would impact us personally, educationally, and professionally. However, after we discussed it amongst ourselves and heard the comforting words of our professors, we became more comfortable and began to jokingly refer to ourselves as "The Last, but not Least, Cohort". This light-hearted sentiment stayed with us over the course of our two-year program and culminated with our group requesting to be the last of the graduates to walk across the stage at the commencement ceremony.
As a member of this "Last, but not Least" group, I was asked to share my views on the ending of the GNP specialty with this blog. After thinking a lot about the subject, I realize just how mixed my views have become. I feel very deeply that the needs of older adult patients are extremely unique and that providers need to receive specialized training and education to care for these patients. Selfishly speaking, I feel blessed to have been admitted to the program while it still existed and feel lucky that I will not have to pursue a post-masters education to receive my specialty. As a nurse who is passionate about older adults, I worry that there will be fewer Gerontological specialists just at the time when the population is growing and becoming more in need of care.
With that said, I know from my experience at UCSF that there are a great number of educators who are deeply passionate about Gerontological care and that they will find a way to teach students how to care for older adults even if it, sadly, must be done in a more concise timeframe. Most of all, I realized that my views are mixed and limited. Therefore, I thought the best way to capture a fulsome view on the changes, I should ask members of the class to contribute their own views.
Here are the results:
"I appreciate the intention behind getting rid of the GNP specialty was to incorporate it into other specialties so that "everyone can be well-equipped to treat geriatric patients." I do agree that everyone needs to be more well-versed in geriatrics. That being said, as other bloggers have mentioned previously, I think that in getting rid of the specialty, we are losing the depth and specialized knowledge that you would gain from being a specialist in geriatrics. In the same way that no one would ever think of getting rid of the pediatrics specialty, why would it be OK to get rid of the geriatrics specialty? Getting rid of the GNP specialty ignores the fact that geriatrics carries with it a very unique set of patient and family needs that cannot adequately be addressed by a generalist." -Anonymous
"I believe our program has prepared me to enter the Gerontological field well prepared, which is why I applied specifically to the GNP program. I must admit I was initially upset when I heard we were to be the last class, feeling like the rug had been pulled from beneath me without even asking what I thought pushing us in with Adult. After reflecting on this broadened degree, I can now understand why changes were made in order to combine both Adult and Gero for subsequent graduates. I feel that change is a constant, that the pendulum will swing wide before it settles in the middle, and that the need for high quality patient care shall be the ultimate deciding factor in what is best. Rather than a "death" I liken the change to a new life, quite different from the previous incarnation. I hope the degree will continue to evolve with the needs of patients and the dedication of the nurses who pursue advanced practice." -Devin Kelly, RN, MS

"As a newly graduated GNP, and a member of the last cohort of Geriatric Advance Practice nurses to graduate from UCSF, I feel fortunate to have had a full and hearty geriatric-focused education. I am dismayed by the impending changes. While I think that it is a great idea to expand the competencies of the adult practitioners by adding more geriatric content to their curriculum, I think it is a mistake to do so at the expense of the geriatric specialty. Expanding the Adult Nurse Practitioner (ANP) to Adult Gerontology (AGNP) makes a lot of sense as a way to address the health care needs of an aging population, and the shortage of providers who are adequately prepared to care for older adults. However, taking away the geriatric specialty seems to me to be a step backwards, a move in the opposite direction, that will shrink, rather than expand, the care that is available to elders. Why not expand the ranks of the adult practitioners who are competent to care for older adults, while at the same time allowing those of us who are dedicated to geriatrics to continue to practice as a specialty? In the current scenario, what is being added with one hand, is being taken away with the other. What a shame, and what a loss. I hope that we can find a way to bring geriatrics back to advanced practice nursing!"
-Simone Masson, RN, MS

"Because we live in an era when baby boomers combined with our extended life span will tax our healthcare network, it is important more than ever to develop a comprehensive program that teaches the next generation of NPs geriatric-specific content in preparation for the expanding aging population. Moreover, the current low number of practicing geriatric NPs and geriatricians further illustrate the need to increase the specialization of this field instead of generalizing it for fear that we may not meet the demand in the future. As GNP students, we went through a program that prepared us well to provide care specifically to older adults. I understand that the increase in geriatric population makes it necessary to expand the geriatric focus for all mid-level providers, but I have reservations about the new adult/geri combined program in preparing the new cohorts at the same level. I welcome more NPs who are "geri" savvy, and I hope the new AGNPs will have the necessary education and training to care for the older adult population".
-Wendy Wang, RN, MS

"As a recent Master of Science graduate, I am conflicted about the demise of the GNP program. I chose the geriatric tract because I am passionate about serving older adults and plan on devoting my entire career to care for the specialized population. My two year GNP training addressed the biological/psychological and social needs of older adults and their family members. This highly specialized training has provided me with the fundamental tools to identify the challenges older adults encounter both medically and socially. Based on the complexity of older adults, it is hard to imagine how a two year GNP program will be condensed into one quarter in the AGNP program. My fear is that the AGNP core curriculum will not be sufficient in addressing the complex needs of older adults, which may potentially create a false sense of security for the AGNP's when providing care to older adults. The aging body differs from a younger adult in that someone who has limited training may miss subtle symptoms or lack of symptoms. Ultimately, the older adult is the one who suffers. With the aging baby-boom generation, I understand the rationale for combining the AGNP program however; I do not feel that the GNP program should be taken away. If there is a way to increase the geriatric curriculum in the AGNP program while keeping the GNP program, I am all for it."
– Anonymous

"Older adults are a growing population with unique and complex needs. I am so grateful to have been able to be a part of the last graduating cohort of Gerontological nurse practitioners at UCSF. It is great to be surrounded by others who are specifically passionate about caring for the elderly and focusing on issues facing older adults. This program taught me to live and breathe geriatrics. I became aware of the physiologic changes that occur as we age as well as common health conditions in the elderly and the "Geriatric Review of Systems". I also learned in both the classroom and in clinicals important issues regarding medications for the elderly, including medications that have higher risk for adverse effects in the elderly, the dangers of polypharmacy, and the need to be aware of renal function. While the new consensus model provides cross competency for adult-gerontology nurse practitioners, I think that the depth of knowledge and experience needed to best care for older adults with complex medical conditions needs to be considered in advanced practice nursing."
-Carol Ho, RN, MS
"My concerns about the loss of a geriatric Clinical Nurse Specialist (CNS) specialty include the following:
(1) The CNS role is by definition population focused. I am afraid that without in-depth population-specific training, the new AGCNS role will no longer meet the needs of the public and become irrelevant or synonymous with the generalist CNL role.
(2) I am told that a representative of the American Association of College of Nursing (AACN) has implied that the geriatric specialty will return as a post-master's for Advanced Practice Nurses. As a student, I fear that graduates already burdened by student loan debt will opt-out of paying post-master's tuition any time soon.
(3) Clinical preceptors are instrumental to the development and education of GCNS students. I am afraid that these busy clinicians will inherit the task of teaching AGCNS students basic geriatric content so that they can safely and effectively participate in patient care. Already, several of my preceptors told me they stopped taking students from other programs that did not prepare their students well enough for working with older adults because they simply did not have time to get them up to speed."
-Sarah Dulaney, RN, MS