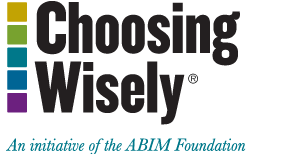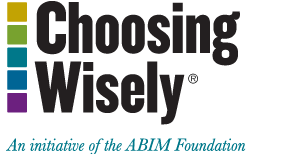 AGS and AAHPM are teaming up with over a dozen other medical specialty societies to participate in the second wave of ABIM Foundation's Choosing Wisely Campaign. So far, nine medical specialty organizations, along with Consumer Reports, have identified five tests or procedures commonly used in their field, whose necessity should be questioned and discussed.
AGS is now accepting submissions for its list of five tests or procedures commonly used in their geriatrics, whose necessity should be questioned and discussed. The Choosing Wisely list should provide specific, evidence-based recommendations to physicians and patients in order to make wise decisions about the most appropriate care based on their individual situation.
Please click on this link hereto submit the top three tests and/or procedures that you feel should be included in AGS' list. Submissions will be accepted until July 6th.
To help spark some ideas, I'll include some comments from our previous postthat suggested the following tests or procedures that should be avoided:
Colorectal or breast cancer screening on patients with less than 10 year life expectancies (or at least not in those with less than 5 year LEs)
PSAs in everyone
PAP smears on elderly women who have had three consecutive normals.
Indiscriminate prescription of iron and PPIs associated with hospital admissions (or at minimum review the continued need for them).
Overselling cholinesterase inhibitors while underselling risks
Ongoing use of cholesterol medications when life expectany = months
Administering a Folstein MMSE
Prescribing docusate
Prescribing Colace and miralax for opioid related constipation
Prescribing more expensive benzodiazepine, e.g. midazolam when a less expensive one is available, e.g. lorazepam
Ordering Videofluoroscopic Swallowing Study to assess swallow function and need for PEG tube placement in individuals with advanced dementia.
Initiating hemodialysis in an elderly patient without a thorough discussion of risks and benefits (especially the discussion of likely functional decline).
Ordering albumin/prealbumin to check for malnutrition
Ordering 'therapeutic' diets for folks with very limited life expectancy or advanced dementia
Insulin sliding scales
Fingerstick glucose checks for folks who won't benefit from tight control, especially on those with limited life expectancy
Use of Aricept and other drugs in this class in patients who are bed bound with advanced dementia. Ditto Namenda.
Continuing cholesterol lowering medications and Plavix in patients with a 6 month life expectancy.
Ordering plain CT scans of the head for elderly patient with a documented history of dementia who are delirious if they are awake without focal findings
Fosamax/antibone resorptive medications for patients with dementia or bed bound patients.
PPI use or continued usage without reviewing indications
Lipid, EKG, HbA1c mandatory testing by pharmacists for patients on antipsychotics in severely demented patients or those on hospice care
Using more expensive analgesics without evidence of superiority to less expensive alternatives
Although not specifically asked for in the Choosing Wisely Campaign, I'll also throw in one thing that was recommended that we should do:
Institute a nationwide POLST paradigm, and give people who complete one a coupon to Denny's.
If you have more suggestions please add them below to the comments section, but please also be sure to go to the AGS survey and submit them as recommendations (click here for the survey)
by: Eric Widera (@ewidera)