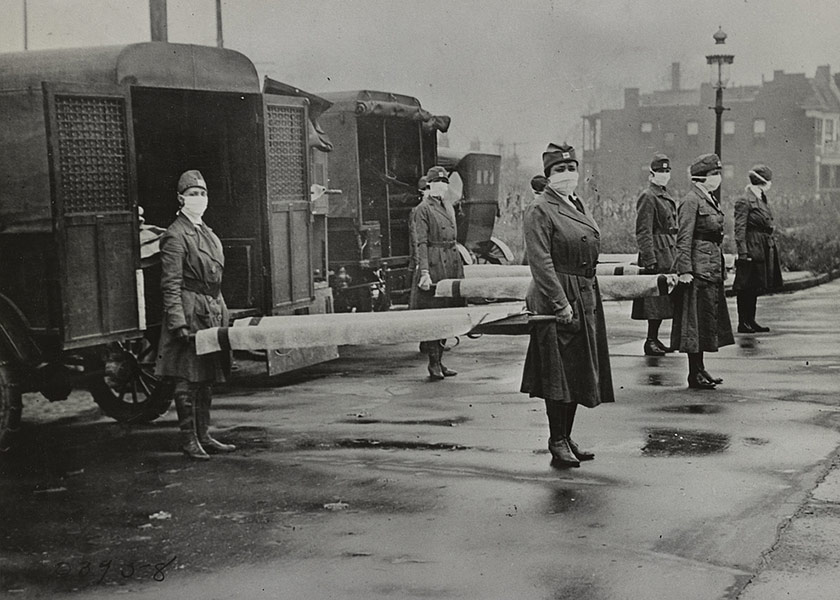 by Sara Levin, David Farrell, Terry Hill, and Nicole Howell
As with much of our pre-pandemic reality, the relationship between local health departments and long-term care facilities appears in retrospect to have been tranquil and routine.  Each year, local health departments offered influenza vaccine supplies to long-term care facilities and provided support for reportable communicable disease investigations as needed.  That relationship was upended with the advent in March 2020 of an expanding COVID-19 pandemic that would soon bring suffering and death to long-term care facilities.  The prior supports for infection prevention and control from federal, state, and local entities were wholly inadequate to address the COVID-19 tsunami.  For local health departments, rapid resource reallocation and improvisation became imperative.  Outbreak investigation and support teams blossomed in every local health department; phone calls and emails were numberless in both directions.  The support teams in some jurisdictions, buoyed by hospital health system nurses, made site visits and provided nearly daily support and technical assistance for staff development.  Fast forward to 2021, with vaccination efforts well underway, the relationship is evolving once again.  Outbreaks have decreased, and members of outbreak response teams are beginning to return to their "day" jobs.
Our questions now are several:  Among the interventions and support tools developed to assist long-term care facilities with COVID-19 prevention and mitigation, what can we say about what worked and what did not?  What was most fruitful among the new collaborations of local health departments with hospital/health systems, community-based organizations, ombudsman programs, regulatory agencies, and long-term care facilities themselves?  What are the lessons learned that could help us sustain these relationships and the successes that emerged?  How can these prepare us to mitigate the next pandemic more successfully?  And perhaps most pressing, what should the relationship between local health departments and long-term care facilities look like post-pandemic?
This last question may be sharpened by a cursory survey of the pre-pandemic literature:
Infection preventionist staffing levels

 were low.

Inadequate RN staffing in nursing homes was associated with significant mortality from 

norovirus outbreaks

.
More than half of residential care facilities, e.g., assisted living, board-and-care homes, lacked a 

pandemic influenza plan

.
Most nursing homes had inadequate 

evacuation plans

.
Nursing homes developed their 

disaster plans

 "with little input from or coordination with public health or emergency management officials."
Many 

state departments of health

 had "room for improvement" in the support they provided to nursing homes for infection prevention and control.
Disaster preparedness for long-term care facilities received little research attention in spite of the dangers faced by these vulnerable populations.

  

An 

evidence-based review

 suggested that government agencies should focus on community resilience in order to improve preparedness.
Following the Northridge earthquake, 

Debra Saliba and colleagues

 found that damaged nursing homes suffered from significant staffing shortages and a complete absence of physicians post-quake, in addition to inadequate coordination with public health and acute care hospitals.

  

And they restated the obvious: "Each disaster provides the public health community opportunities to better prepare for future events."
A 

2019 survey

 found wide variation among local health departments in staffing for healthcare-associated infections: 73% cited lack of funding as a barrier, 50% cited lack of staff training, 45% cited competing priorities, and 42% cited lack of resources and tools.
An April 2021 

discussion paper

 from the National Academy of Medicine summarized public health's pre-pandemic challenges as "chronically inadequate funding, workforce shortages, and outdated infrastructure" due to "long-standing neglect and deprioritization by both local and national leaders."
The modest pre-pandemic relationships between local health departments and long-term care facilities in most jurisdictions compromised initial efforts to mitigate outbreaks that would soon engulf skilled nursing, assisted living, board-and-care, and other long-term care facilities.  Rare was the local health department in March 2020 that had enough staff members with meaningful long-term care experience.   Coordination with ombudsman programs, hospitals, and community-based organizations of the Aging Network, was slow to develop.  In addition, the data systems used by newly formed long-term care outbreak response teams were often inadequate to meet the response needs.  All long-term care facilities were vulnerable to COVID-19, but outbreak teams did not necessarily know that large, for-profit, Medicaid-dominant skilled nursing facilities with disproportionately non-white residents would need the most oversight and assistance.  Experts in long-term care and geriatrics did know this, but pre-existing relationships between local health departments and these outside experts in long-term care and geriatrics were another rarity.
That said, many local health departments quickly established those relationships, and outbreak teams soon began to address the differing needs across facilities for older adults and those with disabilities in their strategies.  To make up for deficits in state and federal guidance and resources, local health department staff created processes and full-fledged interventions on the fly, and public health officials introduced local requirements to prevent COVID spread.  San Francisco's public health officer mandated mass testing of long-term care residents and staff in early May.  Some local health departments harnessed the resources of hospital delivery systems for boots-on-the-ground assistance to long-term care facilities.  Infection control training, personal protective equipment, testing, and staffing assistance were high-profile long-term care needs in the spring and summer of 2020.  Had it not been for the multiple interventions of local health departments, the horrific winter surge that overwhelmed many long-term care facilities might have been even worse.
Just as Dr. Saliba and colleagues looked for lessons learned after the Northridge earthquake, we believe that now is the time to reflect upon the pandemic's long-term care impact from the local health department's point of view.  What communication channels, interventions, and organizational structures were most effective?  For which type of facilities and for which population subgroups?  What new partnerships, e.g., with hospital systems, community-based organizations, or ombudsman programs, were most valuable?  What were the opportunities missed?
In a University of California, San Francisco Department of Medicine grand rounds discussion on March 11, 2021, Bob Wachter acknowledged that "We have focused a lot on equity around racial and ethnic groups and poverty, but when you really look at who got hammered, it was older people, and there's discrimination there as well."  
Kirsten Bibbins-Domingo responded, "When you think that across the country, the deaths in nursing homes were somewhere between 20% and 40% of the deaths…  and you know that happened at the beginning of the pandemic, [you can say] that we didn't know so much, there's nothing we could have done.  But when you see that in the winter surge the exact same thing happened, you realize that this really is a failure to pay attention to our most vulnerable, a failure to pay attention to the sites and to think about strategies.  And then when you couple with that with the fact that … people were also on lock-down and living in prisons the entire time, and for us not to figure out how to do testing strategies better, how to use some of our monoclonal antibody treatments better in a way better to combat spread in nursing homes or the devastation in nursing homes, I think that is absolutely spot on and correct."
The "we" used by Drs. Wachter and Bibbins-Domingo can be parsed, with responsibility distributed across a host of actors at federal, state, and local levels, none of whom were positioned to overcome the longstanding fragmentation of our healthcare system and its inadequacies in caring for our long-term care populations.  Within each class of actors, however, there was variation.  Across local health departments, there were successes, and thlong-term careose successes should be documented before those who created them return to their pre-pandemic jobs.  Going forward, could it be possible, as envisioned in the National Academy of Medicine paper, for "health departments to convene diverse stakeholder groups, coordinate across historical siloes, and overcome cultural differences and the limited availability of funds?"
We believe that now is the time to imagine a new post-pandemic relationship between local health departments and long-term care facilities.  Given that these facilities house our most vulnerable populations, how should local health departments assist them?  What portions of the knowledge gained this past year should be retained as organizational memory in local health departments and baked into work processes?  Now that we know more about the race, ethnicity, and language differences across the residents and staff of diverse long-term care facilities, how should that inform local health department efforts?  What would improved community resilience look like, and how can we get there?  What policy and legislative strategies should be pursued at the local, state, and national levels?  Finally, what responsibilities should the long-term care facilities themselves assume as part of our community resilience?
Author Bios:
Sara K. Levin, MD, FACP, is Deputy Health Officer, Contra Costa County.
David Farrell, MSW, LNHA, is a consultant to the Alameda County Public Health Department.
Terry Hill, MD, FACP, is COVID-19 Medical Director for the Alameda Contra Costa Medical Association.
Nicole Howell is Executive Director of Ombudsman Services of Contra Costa, Solano and Alameda.