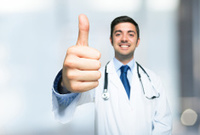 By Laura Petrillo, MD, @lpetrillz
As of today, it is legal for seriously ill patients in California to request lethal medication to end their lives from their physicians. That's the verb that the End of Life Option Act uses, request.  One imagines a very determined patient, let's call her Helen, asking her physician about something that's been on her mind since she learned about her metastatic cancer: "Doctor, will you help me die?"  Maybe she saw Brittany Maynard on the cover of People magazine, or read about Jerry Brown's opinion that it would be "a comfort" to have that option if he were dying and in pain. She is educated, like most of the people who use the Death with Dignity Act in Oregon, and eager to have control over the moment of her death.
But what if Helen hadn't read the news about the End of Life Option Act, and didn't know that aid in dying was now legal in California? Imagine instead that she has just come to her follow-up appointment, nervously, to find out the results of her recent scans— and the results aren't good. After her oncologist breaks the bad news, Helen asks, "What's next?" The oncologist runs through the options of palliative chemotherapy, a clinical trial, or hospice when the time is right. He pauses. Now that it is legal in California, does he need to include aid in dying as one of the treatment options that he presents?
Let's first deal with the question of "can a physician bring up aid in dying?" Though the law requires that the patient has "voluntarily expressed the wish to receive a prescription for an aid-in-dying drug" in order for a physician to write a prescription, there is no clear requirement that a physician must wait for the patient to broach the subject. In the extreme, the law makes it a felony for anyone to knowingly coerce or exert undue influence on a person to consider aid in dying, but coercion is a high bar. So a well-meaning physician, who wants to ensure that his patients are making a fully informed decision, could put the option on the table, and as long as he doesn't overtly browbeat the patient into making a formal request, he would be in the clear. Even if he were to be suggestive, and a family member or medical colleague brought the case to the attention of the Medical Board, the physician would only have to demonstrate that he was acting "in good faith" to avoid repercussions.
Putting aside what's legally permissible, perhaps the thornier question is, "should a physician bring up aid in dying?"  There has been an enormous shift over the last few decades to give patients more information and decision-making power, codified by the Patient Self Determination Act and evident in processes like informed consent. Some argue that patients like Helen, who has not heard of the End of Life Option Act but is eligible, should have the right to know her legal option of aid in dying and further, that it is the physician's job to inform her.  Once she has all of the facts from the doctor, she can make a choice that matches her values.
The only trouble with that concept is that the conveyance of information from physician to patient is never so purely technical and devoid of the physician's values. Nor are patients and physicians on equal footing in terms of power. In choosing the moment to introduce the idea of aid in dying, the physician makes a value judgment that the patient may be at a point where they would consider that speeding up death is better than living. While some patients may feel comforted that their doctor is willing to talk about the subject, others may feel "a breach of trust, or abandonment,"* particularly those who already distrust the healthcare system.  Providers may unintentionally convey the message that the patient's life is of diminishing value, or that the road ahead is so hard that the best treatment we have is death hastening. And though they may not even be aware, physicians may counsel patients differently based on implicit biases, and exert an influence over what patients choose by the order in which they present options.
Chances are Helen read People magazine anyway… and if she were interested in aid in dying she could make her wishes known.  But if she didn't, her oncologist should not presume that she shares his values and would welcome learning about aid in dying from him simply because she qualifies.
*Dr. Alicia Fernandez, personal communication