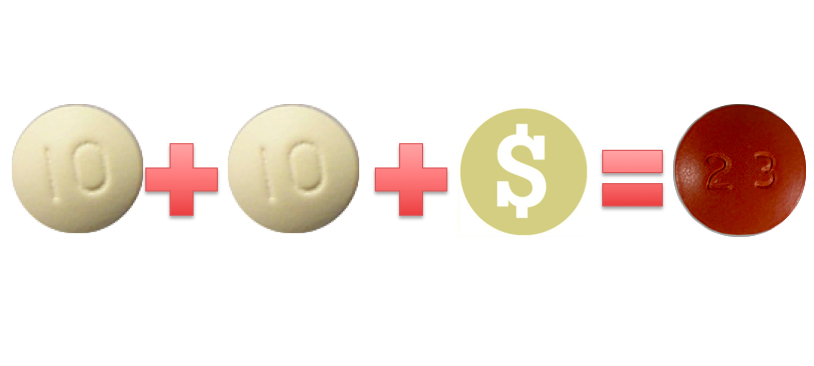 "What is the difference between 20 and 23? If you said three, you are off by millions—of dollars in sales, that is—at least from the perspective of Eisai, the manufacturer of donepezil (marketed as Aricept by Pfizer)."
Lisa Schwartz and Steven Woloshin, BMJ 2012
An articlein today's New York Times online covers a superb piecein BMJ describing the saga of Aricept 23 – a new low in the triumph of marketing over science and patient well-being. Drug manufacturers, when faced with loss of patent protection and exclusivity for their drugs, have relied on a package of tricks to maintain a healthy revenue stream. Some have rolled out slightly modified versions (e.g., omeprazole to esomeprazole, albuterol to levalbuterol). Some have rebranded their product for special and sometimes dubious indications (e.g., rebranding fluoxetine as Sarafem). Some have delayed entry of generic competitors onto the market through dubious litigation and "pay-to-delay" arrangements.
In the case of Aricept (donepezil), the manufacturer tried a different tack – getting FDA approval for a new dose of the drug (23 mg), which they alone would be able to market even as generic manufacturers could compete on the traditional 5 and 10 mg doses. Why 23 mg? Presumably this dose was chosen because it would be difficult to replicate by combining standard-dose pills available through generic competitors.
If the 23 mg dose provided a clear therapeutic benefit, that would be one thing. However, as Schwartz and Woloshin explain, the single trial that compared the standard and new doses failed to demonstrate any benefit in daily functioning yet found a substantially greater risk of harms from the higher dose including nausea and vomiting, diarrhea, and anorexia. As a result, FDA reviewers recommended against approving the new dose. However, they were overruled by senior officials. To add insult to injury, lack of FDA oversight led to an erroneous statement on the product label that the higher dose improved overall functioning…and because of this, the company was legally allowed to perpetuate this falsehood in their advertisements.
Beware drug companies bearing prime numbers!
by: Mike Steinman