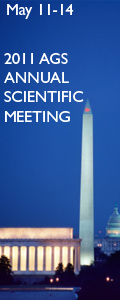 We need you input. The American Geriatrics Society's (AGS) Annual Meeting in Washington, DC, is only about a month away. Importantly for our GeriPalcommunity, the palliative care special interest group (SIG) at AGS is scheduled for Wednesday May 11 from 5:45 to 7pm in the Maryland 1 room. We have a couple topics that we are planning to cover, but we wanted to see whether you want anything else.
Here are three items that we are planning for this years agenda:
We have asked Christine Ritchie to discuss her work in creating collaborations between AAHPM/AGS. Many of us may have heard some portions of this collaboration but may be unsure what it is doing and where is it going. This is an opportunity to find out more about this fascinating collaboration and what it means for us.
We have asked Paul Tatum to discuss where we are with the creation of the Geriatrics SIG at AAHPM.  For those of you who don't know, there isn't yet a geriatrics SIG yet at AAHPM.  Paul though is spearheading the movement to start one.  This would be another great way for both communities to work closer together.
We are planning to have a brainstorm exercise and breakout groups to work on SIG submissions. Our goal is to leave the SIG with at least two products that can be submitted as symposia for the following years annual meeting.
So, let us hear from you. What would draw you to a Wednesday night 5:45pm Palliative Care SIG? What would you want to get out of it? How can the SIG help you?
by: Rachelle Bernacki and Eric Widera