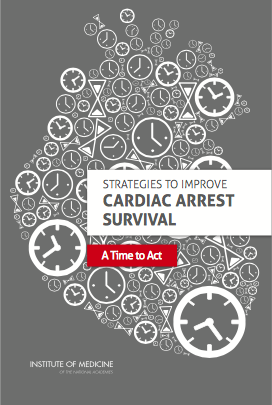 On June 30, 2015, the Institute of Medicine (IOM) released a report titled "Strategies to Improve Cardiac Arrest Survival: A Time to Act". The aim of the report was to focus on ways to improve outcomes follow a cardiac arrest, and to the reports credit, the outcome of interest was not just survival but also function. However, if there was one sentence that best summarizes my take home from this 459 page report, it would be this one from page 219:
"In some ways, these cultural shifts have been built on the belief that the system should do everything possible to save every cardiac arrest patient within the jurisdiction of the system."
Just like this sentence, you can't help feel the unbridled optimism that seems to permeate most sections of the report. Over and over again, the authors restate that cardiac arrest is a "treatable public health threat" and that if "treatments were more efficiently implemented on a broader basis" we "could avoid needless deaths and disability each year."
By design, every aspect of this document is focused on ways to either increase the use resuscitative interventions or improve outcomes after CPR is initiated. This means that there is nothing on:
ensuring that those who don't want resuscitation don't get it (POLST isn't even mentioned once in the document)
targeting these resuscitative interventions on those who are likely to benefit
Furthermore, advance directives and patient preferences are mentioned a couple times, but mainly around the setting of "withdrawal of care" after CPR is performed (one a side note – why the heck is IOM using the phrase "withdrawal of care", can they not find a palliative care doctor to read this before publication!)
Unfortunately even the few instances when patient preferences are discussed, they seem to have subtle hallmarks of disapproval for those who opt against resuscitation as noted in this quote:
"Survival is never possible if care is withdrawn prematurely, but the patient's preferences and values should always be the guiding principles in customized approaches to care."

The icing on the cake for me is that when personalized medical care is mentioned in the document it refers not to ensuring that the patient gets that care that they want and that this care is consistent with their goals, but care that "employs genetic sequencing and other advanced techniques to customize medical care to the needs of the individual patient."  That's just dumb.   If you want personalized medical care, start with the person and not a genetic test or some other "advanced technique" unless that technique is some type of communication skill used in a  family meeting.
by: Eric Widera (@ewidera)