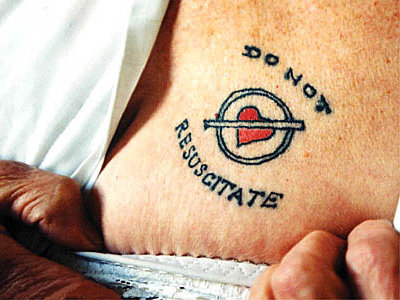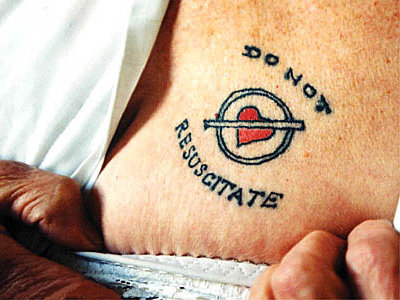 (To see the JGIM image click this link)
Perhaps you have said, or heard someone declare, "I want DNR tattooed across my chest!"
Well, someone actually had it done. See this imagein JGIM of the tattoo and the unusual story behind it. In this case, the DNR tattoo was the result of a lost bet in a drinking game – bad idea jeans – the patient actually wanted to be full code!
In an accompanying editorial, Bernie Lo and I describethe problem with actually tattooing DNR across your chest. As we say, the idea is intuitively appealing, but flawed as policy.
This could be used a teaching image about respecting individuals' rights to avoid resuscitation. The idea is to provoke a thoughtful discussion. Questions for trainees could include:
What is behind the idea of the DNR tattoo? Why would someone say that, or do it?
Imagine you are seeing a new patient who arrests in front of you. Preparing to do CPR you see a DNR tattoo on the chest. How do you respond? Why? Should DNR tattoos be respected?
What can we do to protect the interests of people who really do not want to be resuscitated?
Should we as a society put greater ironclad protections in place for people to irrevocably fix their code status at DNR? What are the risks? What if someone codes from anaphylaxis? Chokes on some food in front of you?
What do you think about allowing leeway or flexibility in decision making? In all cases? Giving the surrogate leeway? The clinician? Do the advance directive forms or POLSTs you use allow for leeway? Should they?
What do you think about Ulysses contracts? (Then Ulyssessaid, "Eurylochus, come quickly! Tie me to the mast, for I shall hear the Sirens song and live!"). Caringadvocatesoffers such documents (run by frequent GeriPal commenter Stan Turman). Example: do not give me food or water when I have advanced dementia, no matter what I say or do.
Feel free to share your teaching experiences in the comments. I think the geriatrics and palliative care communities really appreciated the discussion about how to use thisvideofrom a previous post as a teaching tool.
by: Alex Smith