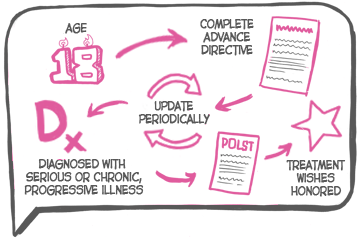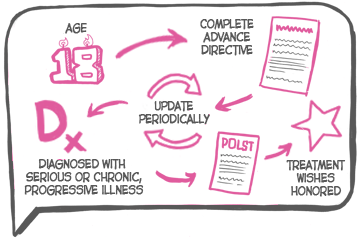 Do you have any good ideas on how to get more people to complete advance directives early, re-visit them periodically, and for people with serious illness document their end-of-life wishes via forms like POLST? Well, it's time to turn those ideas into something more.
The
California
HealthCare
Foundation
(CHCF)
Design
Challenge is now in full swing. The goal of the challenge is to "raise
awareness
of
end-of-life
care
issues
and
to
generate
a
variety
of
ideas
for
compelling
experiences
that
could
lead
to
greater
activation
and
conversation about end-of-life preferences". Anyone in the US is welcome to enter this design challenge, which will award $10,000 in prizes for inspirational solutions.
You can submit pretty much anything you think will get people talking about end-of-life preferences. Your proposed solutions can be something on a website or mobile app, it can be some type of product or object, it can be a marketing campaign, or even an art installation.
It also won't take a lot to enter. You just need to:
Create a design brief of 500 words or less summarizing your proposed solution
Create a PowerPoint or video (max. 15 min) that visually communicates the proposed solution
Just keep in mind these three main guidelines:
Your submission should promote awareness and create a compelling experience that leads to greater activation and more people communicating their preferences by having a conversation, and completing an advance directive or POLST form.
Your submission should target non-activated people, and help take a person from pre-contemplation to contemplation, or contemplation to action.
Your submissions should not create additional advance care planning documents; existing forms and documents can be used.
Other than that, the challenge is pretty open ended. So get your creative juices flowing and submit something!
For more details, see http://healthcareexperiencedesign.com/eolc/
by: Eric Widera (@ewidera)